When it comes to cooking, chef Carl Heinrich says he doesn't like taking risks. But that didn't stop him from taking a huge risk by letting me — someone with zero formal culinary experience — work in his kitchen.
Granted, it's hardly a normal night at Richmond Station, Heinrich's Toronto restaurant, since it's playing host to a "Top Chef Canada" dinner series. Usually open to the public, Richmond Station's doors are closed by 6 p.m., the 80 seats filled to capacity with guests eager to watch the show's winners — chefs Dale MacKay, Matthew Stowe and Heinrich — whip up a meal.
Heinrich's operation is one part assembly line, one part operating table. Junior chefs and interns take orders from Heinrich, Stowe and MacKay, beelining between people carrying pots of root vegetable puree or passing containers of collard greens and sautéed beets to the senior chefs.
There, Heinrich and company stand over sets of eight plates like surgeons over a patient in need of a triple bypass. Only instead of calling for a scalpel, they're calling for the next order of deep-fried croquettes. Everything culminates with the meticulous layering of vegetables and meats to create a plate of pork far more intricate than the sum of its parts suggests.
Watching Heinrich plate is like watching him climb to fame on television back in 2011. He's still having fun — that much is evident in the way he giggles like a six year old every time a squirt bottle makes a farting sound. Less obvious is his will to win, not against 16 other chefs, but as a restaurateur on a daily basis.
Heinrich spoke with the Huffington Post Canada about his definition of winning, his time in Paris and why it's important to eat foods you hate.
Do you take a lot of risks in the kitchen?
I don't. And I'll tell you why: On a night like this, you can because you've got a little more to prove so you can have more fun. On regular nights, I like to make food people want to eat. And value is important to me, not only as a chef but as a business owner.
It doesn't make sense to me to make food that's super risky and super extraordinary, but not very good. When you take risks, you don't always win and I like to play it safe on the side of cuisine in my restaurant because I like winning.
What would you be doing if you weren't a chef?
Maybe something to do with numbers? I'm a good numbers guy. Like an architect or an engineer or something. But honestly, I've been working in kitchens my entire life. I started when I was 13 years old. I've never looked back, so I couldn't answer that clearly.
Well, you're also the co-owner of Richmond Station. Could you see yourself still going into business if you weren't a chef?
Entrepreneurship is very important to me. I like being an owner and I like being the boss. I like being able to say this is what I want and I know how to do it.
What's a Canadian restaurant you'd recommend?
I like Edulis on Niagara Street. Toby and Mike do such a great job and their food is always fantastic, bringing in flavours and ingredients that may be a little less known to most but really top notch.
How about the best restaurant no one's heard of?
There's a place in Roncesvalles that arguably people have heard of because it's busy all the time, but it doesn't get all the press it deserves. It's called the Westerly. It's a little bistro, probably 45 seats, serving good food.
What's your favourite cheap food thrill?
I like a good bowl of pho and there are plenty of opportunities to eat good pho in Toronto.
What would you say is the most memorable food city?
You know, I haven't travelled enough to answer that. I really like Lyon, France. Lyon was a really fun city but New York City is awesome. I lived there for a few years and it's hard to beat, so it's got my vote.
Do you have a particular poison you always go to?
I really like drinking wine. I'd much rather have a glass of wine before a beer but I like my beer too. There's no drink I don't enjoy. As spirits go, I'm a big fan of scotch — I always have a few bottles around.
What do you keep in your emergency survival pantry?
Kosher salt. Salt is such an important ingredient in my cuisine and my food, not only to make sure things have flavour, but also for curing and preserving. If you have a piece of meat, what are you going to do with it? Well, you can make it last a long time just by curing it in salt. There's no dish I can think of, save for a few pastries or side dishes, that don't benefit from salt.
What does Canadian food mean to you?
I think of the food I ate growing up and it was spaghetti and meatballs, Shepherd's pie and pizza on Friday night. As Canadians we don't really have a food cuisine or a cuisine that we call our own, but it the same time, we do a very good job of taking other people's cuisine and replicating it and making it our own comfort food.
What's an unusual food or ingredient you'd recommend people try?
I'd say people bring back the ingredient they think they hate. Rutabaga, turnips, brussel sprouts, beets, livers, kidneys. Everybody gives them a bad rep but they can be delicious. The really can sometimes you feed someone a dish with those ingredients sneakily and they go 'wow, what was that?' That was a beet but it wasn't boiled to destruction or it was a brussel sprout but it was nicely caramelized. I say those kinds of things are important to bring back.
Do you find yourself working more with flavours or with ingredients?
Ingredients. It has to start with ingredients and so that's what we do at the restaurants. There's two ways you can make your menu: one is sit down, grab a piece of paper and you write your menu and look for all the ingredients. The second is you go find all your ingredients, shake a lot of hands and bring them in and decide what you're going to put on your menu.
The second way is always going to yield a better result because you're finding all the best ingredients. When you go home and cook, you don't start with a recipe and shop. You go home and make dinner after you open your fridge and see what you've got around. That's the kind of philosophy we have at Richmond Station.
Like this article? Follow our Facebook page

Or follow us on Twitter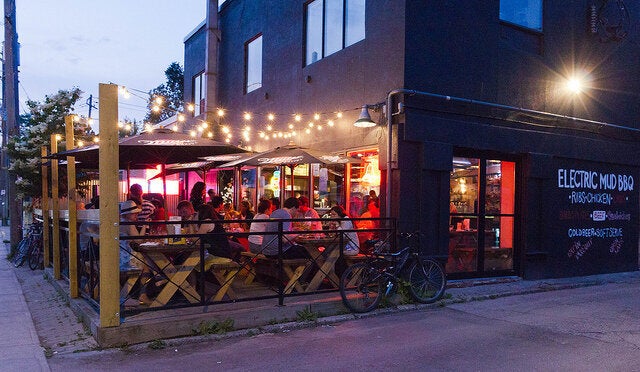 Best Toronto Restaurants (HuffPost Picks)
Popular in the Community