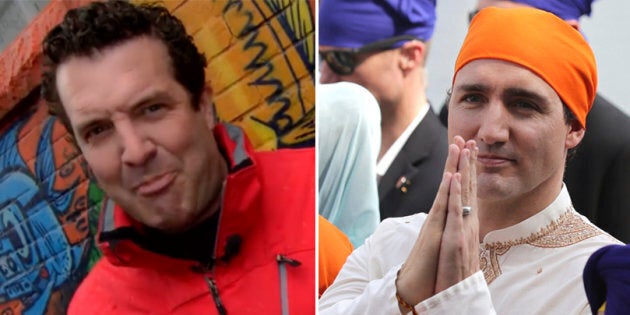 Add Rick Mercer to the list of people who were baffled by Prime Minister Justin Trudeau's sartorial choices during his recent visit to India.
"It is one thing to tip your hat to a culture that you are visiting," Mercer said in the segment, "but the Trudeaus, they dove into the deep end of the Ganges. They did not come up for air."
The prime minister's attire garnered criticism and mockery online, with some calling his and his family's chosen outfits "over the top." Trudeau's clothing even landed a short segment on Sunday's episode of "Last Week Tonight," with host John Oliver referring to it as "national dress pandering."
"When the prime minister of Japan shows up in Canada, he does not get off the plane wearing his Anne of Green Gables wig and his peasant dress," Mercer adds in the clip. "No, that's for private time."
Though the outfits generated their own fair share of controversy, the trip's biggest political headache came after CBC News reported that a failed assassin had been invited to one of the prime minister's events.
Jaspal Atwal, a Canadian Sikh who was convicted of attempting to kill Indian cabinet minister Malkiat Singh Sidhu on Vancouver Island in 1986, was on the guest list for a reception with Trudeau in New Delhi. The Prime Minister's Office said the invitation was sent out by Liberal MP Randeep Sarai, who took "full responsibility." The PMO rescinded the invite after photos surfaced of Atwal posing with Trudeau's wife, Sophie Gregoire Trudeau.
"How does that happen?" Mercer asks in his rant. "Governing is supposed to be serious business, and yet despite all this some people are calling the trip a success. Yes, I guess if you judge success by the number of likes you get on Instagram."
"My theory is that for this government, those likes are good enough."
With files from The Canadian Press
Popular in the Community