Something is rotten in the state of American politics — and the stench has Rick Mercer throwing his head back in disgust.
"How is it possible that the more outrageous Donald Trump becomes the higher his numbers go? I don't get it. It is the most ridiculous thing I have ever seen in my entire life," he said in a new rant.
But witnessing the macabre descent of a party once led by Dwight D. Eisenhower and Abraham Lincoln is a spectacle the CBC comedian says is happening to the Canadian right — albeit on a much smaller scale.
Focusing on Kevin O'Leary, the Canadian businessman and reality TV star loudly musing a foray into federal politics, Mercer tries to eviscerate the possible Conservative Party leadership contender by linking his shtick to Trump's bit.
The comedian zeroed in on the speech O'Leary, a man who thinks "money is a religion," gave late last month to the Manning Centre Conference.
"And the more outrageous he became the more they loved him. It's embarrassing," Mercer said.
"He's up here in Canada doing Donald Trump's act, not as well and it's working. He's like a Rod Stewart impersonator. Big crowds in small towns only."
"If Trump becomes president and Kevin O'Leary becomes prime minister I want to leave the planet."
But if his celebrity and draw at the Manning Conference and the unsolicited think pieces he's opined about how premiers should run their house are any indication — the next refugee crisis may be intergalactic, said Mercer.
"Thanks to Kevin O'Leary, I now relate to those Americans who say that if Trump becomes president they want to move to Canada. Because if Trump becomes president and Kevin O'Leary becomes prime minister I want to leave the planet."
As for Trump, the American businessman with zero experience in elected office, celebrated victories in three state primaries, securing his hold as Republican front-runner on Tuesday.
The concept of him winning the the Republican Party nomination for this year's presidential race is looking increasingly likely. Which is significant considering he was initially brushed off as loud-mouth sideshow seeking to extend his 15 minutes of fame.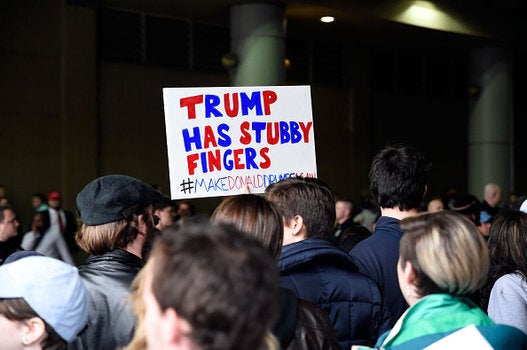 11 Donald Trump Protest Signs