Rick Mercer is back to work — and wondering why so many politicians, seemingly, are not.
The CBC comedian questioned the state of democracy in North America on Tuesday night in light of the government shutdown in the United States and prorogation in Canada.
But he pointed out there's an important difference between what's happening here and south of the border.
"When our Parliament is prorogued the mechanics of government still work: taxes are collected, the mail is delivered, veterans are abused on a daily basis," he said. "But MPs do not sit in the House of Commons, so nobody can ask the government a question."
And, according to Mercer, even journalists are unable to get answers from the prime minister.
"I looked into it and compared to other world leaders, Hugo Chavez has answered more questions from the press than Stephen Harper in the last six months and Chavez died seven months ago," he said.
Mercer said that MPs returning to Ottawa next week will have gone 117 days without sitting in the House of Commons.
"There's a word for people on that schedule — unemployed," he said.
But members of Parliament don't complain because they still collect paycheques and believe they can represent constituents from their basements and bass boats, he said.
So, Mercer argues the blame rests with Canadians for not raising a ruckus when the PM closes Parliament "on a whim," which he claims is the very definition of "taxation without representation."
"Democracy takes practice," he said. "We either use it or lose it."
But it's worth nothing that many Canadians were upset when Harper announced in late August that he wanted Parliament prorogued by one month to reset his government's agenda.
Forum president Lorne Bozinoff told The Hill Times that while prorogation can be a legitimate practice, Harper has "poisoned the chalice with his past misapplications of this tactic" and exhausted public patience.
Harper famously prorogued Parliament to avoid a confidence question during the coalition crisis of 2008.
And while Mercer may believe there hasn't been enough outrage, Tom Mulcair's NDP spent the last month accusing Conservatives of hiding from tough questions and thwarting democracy.
The NDP even instituted "virtual question periods" on Twitter where MPs challenge Tory ministers over a variety of issues and Mulcair asks Harper the type of questions he might in the House.
Mulcair's questions to Harper were met with radio silence.
Here are just a few examples:
A new session of Parliament opens with a speech from the throne on Oct. 16.
Like this article? Follow our Facebook page

Or follow us on Twitter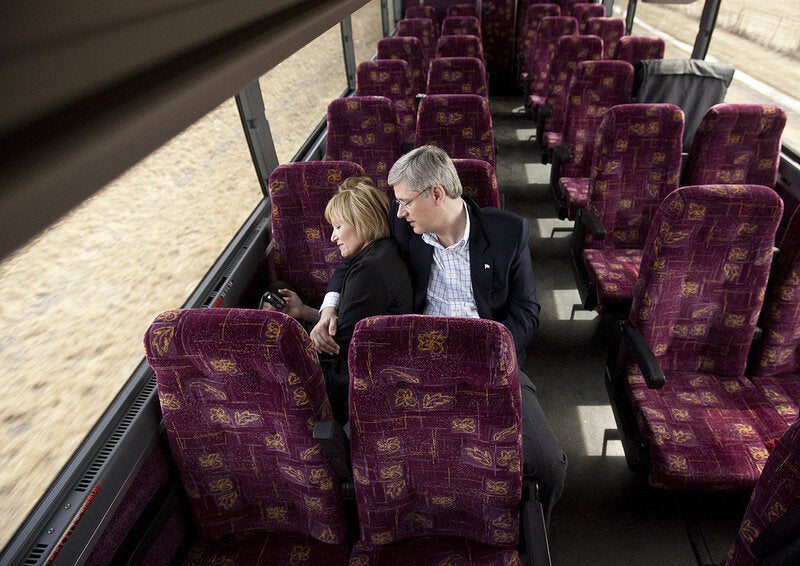 Memorable Stephen Harper Pictures