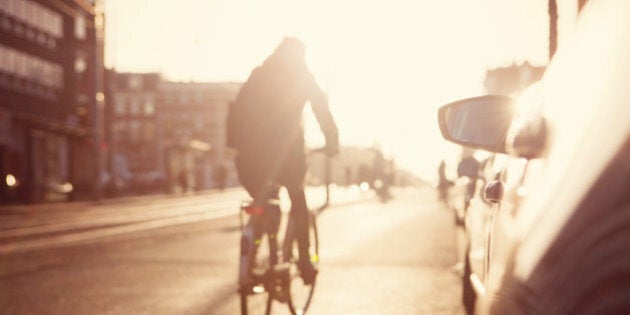 Two months short of two years after her initial cancer diagnosis I watched my wife Linnea, my love, take her last breath. I held her in my arms and I wept, and I told her that it was OK to let go. To please let go. The room filled with unimaginable wails and I was only scarcely aware that they were coming from me.
Two years to the day of her first chemotherapy treatment I was at the funeral home approving the final design for her stone.
The months between those two unforgettable days were filled with the deepest darkness I have ever known. I couldn't sleep. I slept too much. I couldn't eat. I ate too much. I drank too much. I lost my exercise routine and I gained 12 pounds. The adrenaline that had been fuelling my body drained from me and left depression in its place. My universe felt empty and cold.
Of all the emotions I've dealt with, a sense of failure has been the hardest to come to terms with. Intellectually I know it wasn't my job to save her, but emotionally I can't help but feel that I failed. Throughout the weeks leading up to the holiday season, dealing with this loss has been especially tough. It's my first holiday without Linnea. This is hard.
In 2016, when Linnea's cancer returned after only a few months of remission, I dusted off my old bike (then bought a new one, then another new one, but that's another story...) and pulled together a team of riders, Linnea's Legion, to raise funds in the Enbridge Ride to Conquer Cancer benefiting the Alberta Cancer Foundation. Together, our Ride to Conquer Cancer team raised almost $70,000 for triple-negative breast cancer research.
Funds raised through the Ride enable the Alberta Cancer Foundation to support breakthrough cancer research, clinical trials, enhanced care and the discovery of new cancer therapies at the Tom Baker Cancer Centre, Cross Cancer Institute and 15 other centers across Alberta. Participants have the option to designate their funds to type of cancer that means the most to them.
And again, intellectually, I knew that those dollars wouldn't bring about a new discovery in time for Linnea, because of her prognosis, but emotionally I wanted it to be so. And in that sense, I feel like I failed her.
For me though, the Ride was never just about raising money for cancer research and care, or about saving Linnea. It was about raising awareness. It was a community of support. It was the best thing I did for my mental health through our cancer journey. As the training sessions got longer and longer and the challenges shifted I learned things about myself. About my strengths, my limits and my weaknesses. Endurance sports will do that to you.
In the darkness of her loss, I forgot many of those lessons.
Recently, a dear friend challenged me to 24 consecutive days of fitness, and I dusted off my (new, new) bike, set it up on a trainer in my basement and started turning the pedals again. And it all came flooding back to me. The sun and wind on my face. The pain of the hills. The laughter. The tears. And those life lessons.
One of the most important lessons that cancer and the Ride to Conquer Cancer have taught me is never to look too far down the road. To take each moment as it comes. Because if you look ahead to the finish line you only remind yourself of all the pain to come between the present moment and that one.
Turning the pedals again, sweating away the darkness, is reminding me that it isn't all despair. Our fundraising didn't save Linnea, but it may well save future women (and their loved ones) from going through the hell that we went through. I knew that once. Sitting on this trainer I'm remembering it again. And I'm remembering how good it feels to train for such a crucial cause. Remembering how it feels to be healthy again.
Follow HuffPost Canada Blogs on Facebook