Rihanna's visit to Calgary over the long weekend caught a lot of attention, but many are not amused with the bad girl's antics.
According to Daily Mail, Rihanna shared three pictures of the dancers to her Instagram account early Friday morning. The first photo showed three women dancing on stage in lingerie, the second was of a dancer fully exposed from the front and the third pictured a stripper bent over wearing nothing but thigh-high boots.
Story continues after the slideshow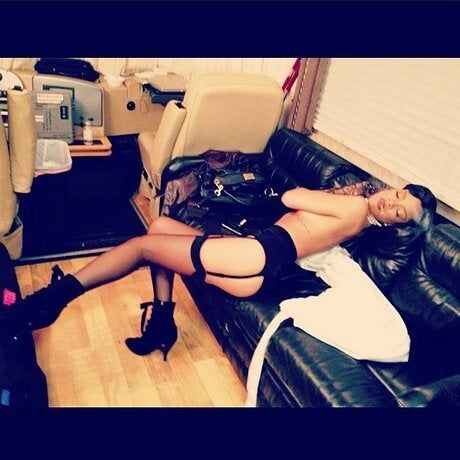 Rihanna's Most Outrageous Moments
And despite the fact that Rhianna deleted the photos shortly after posting them, concern has been raised from some who think the pop star broke privacy rules with the photos.
"We are talking about a club, a private club that you or I or anybody else including Rihanna — there's nothing special about her under the law — don't have a right to enter," Alberta Civil Liberties Research Centre expert Brian Seaman told Metro Calgary.
Downtown strip club Boudoir Rouge, where it is rumoured Rihanna snapped the pictures, would not confirm the singer's attendance, but did confirm to Metro they do have a strict no-recording policy.
And her bad behaviour did not end there.
According to the Calgary Herald, fans waited from more than an hour and a half Saturday evening for the pop princess to take the stage.
"Early into the eventual show she did offer a vacant 'sorry' — one befitting in sentiment the album she's currently touring, Unapologetic — but with no attempt at an explanation, and yet that was supposed to be enough to placate the room," wrote the Herald.
"I would never spend money to go see her again."
The rest of Rihanna's stay was less eventful. She delighted fans when she showed up at Chinook Mall to do some shopping Saturday, as well as stopping by club Ten X for an after party following Saturday's show.