A 22-year-old student from Boston is gaining fame for bearing an uncanny resemblance to pop star Rihanna. Andele Lara is constantly approached by screaming fans mistaking her for the Barbadian singer. As a result, she is considering a full-time career as a Rihanna lookalike.
"The moment I step out anywhere, everyone starts staring and whispering before I get bombarded by strangers asking to take their photo with me," she tells The Daily Mail. "This happens every day -- it doesn't matter what I do. I know I could happily give up my part-time job and studies to have a career as a Rihanna lookalike."
Andele was 15 years old when her friends started noticing how similar she looked to Rihanna. While she didn't see the resemblance at first, she said that Rihanna's increasing fame made it hard for her to deny it. Now Andele can hardly leave the house without going unnoticed.
"Some people follow me into stores or as I'm driving," she says. "Other times fifteen people will swarm at me all at once to take a picture with me."
Despite looking like the brunette bombshell, Andele explains that she never felt confident in her appearance as a teen. "I was known as the skinny girl with the big forehead," she said. "But as I got older, I went through many stages to find myself and experimented with different hairstyles and fashion trends."
"I've scored hair contracts as well as sneaker, mascara, hair accessories and apparel deals," Andele says. "I wouldn't really say I've gone out looking for opportunities, they've just come along naturally. I reckon if I put more effort, I would get even more!"
While Andele plans on becoming Rihanna's professional lookalike, she says she won't be performing anytime soon. She told The Daily Mail: "I know I could make a career of it. I'm pretty much a lookalike in my daily life now! But unfortunately I can't sing though so I might have to take singing lessons!"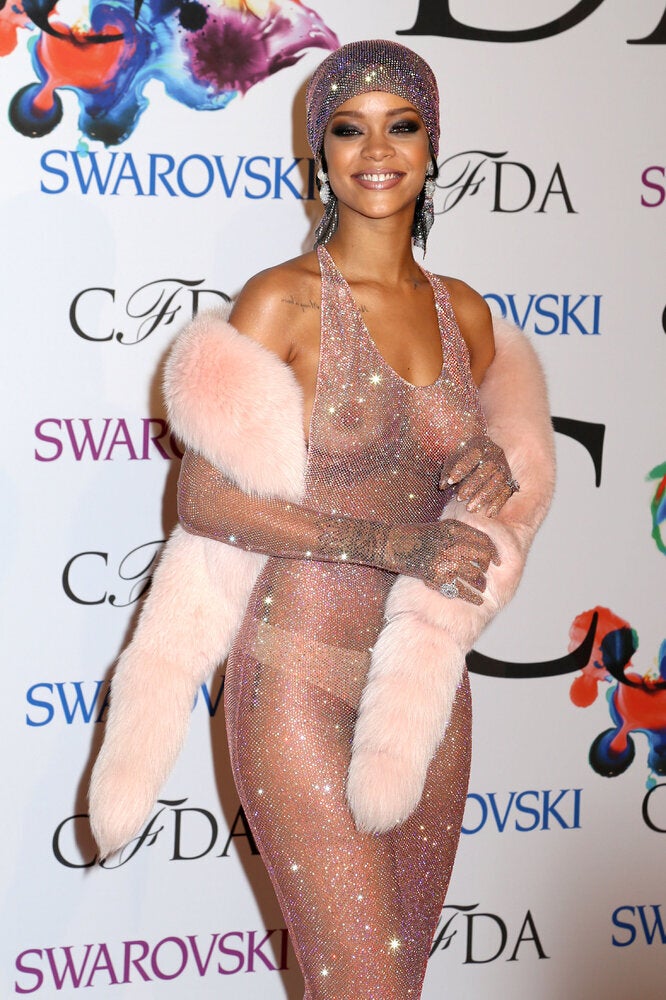 Rihanna's 100 Most Naked Moments