Rihanna wants you to get to work (work work work work) and call on Prime Minister Justin Trudeau to boost Canada's funding for foreign health and education programs.
The superstar posted a graphic of herself next to the Canadian leader on her Instagram and Twitter accounts Friday to promote a call to action from Global Citizen, an advocacy group that works to end extreme poverty and to raise awareness to combat diseases worldwide.
The group is calling on supporters to urge the Canadian government to provide $150 million in funding toward fighting polio, as well as $75 million for an education fund.
And since here was a massively successful artist tweeting about a Canadian prime minister, a few Twitter users couldn't help but get excited:
Trudeau is no stranger to Global Citizen. In late August, he appeared in a video to support the organization and an upcoming concert in Montreal for The Global Fund to Fight AIDS, Tuberculosis and Malaria:
People who join the Global Citizen's social action earn the chance to win tickets to the free Montreal show on Sept. 17, which will feature Usher and Metric, or a concert in New York City including Rihanna on Sept. 24.
In May, the prime minister announced that Canada is donating $785 million over three years to the Global Fund's efforts to end AIDS, tuberculosis and malaria.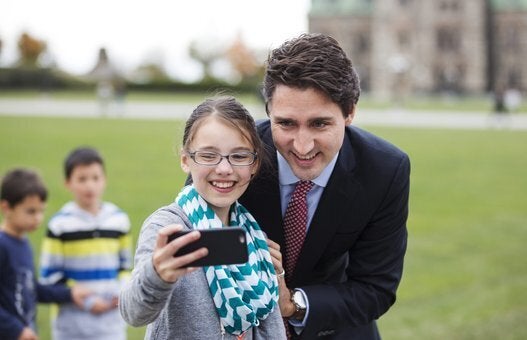 PM Trudeau Posing For Selfies
Popular in the Community