Staking Claim is a multi-part series exploring the proposed Ring of Fire mining development in Ontario and how the First Nations communities are preparing for economic activity and the environmental and societal consequences of Canada's next resource rush.
MATAWA FIRST NATIONS MANAGEMENT INC. ANNUAL GENERAL MEETING — Delegates at this corporate meeting pull up in pick-up trucks, not limos. Leaders sit at the table with elders and youth rather than aides or shareholders. No one dresses in suits or ties; they wear running shoes and ball caps.
The annual gathering of the Matawa First Nations Tribal Council doesn't follow the conventions of the usual corporate annual general meeting, nor the formalities of government sessions.
During a sacred opening ceremony, elders load long pipes with tobacco and puff out billows of smoke as three men and a boy pound a powwow drum. Songs from time immemorial reverberate through the open doors of a rundown community centre where kids play ball hockey in the gym.
At the top of the agenda: How to assert a unified stance on mining development that encroaches on traditional territories in this part of northern Ontario, home to a bed of lucrative mineral deposits that has been dubbed the Ring of Fire.
Near the back of the auditorium sits former Ontario Premier Bob Rae, whom Matawa has hired to head negotiations with the province over the mining projects. The snowy-haired 65-year-old is the only leader checking his BlackBerry and stands out in his crisp dress shirt when he takes a seat next to an elder wearing a "Native Pride" hat.
Rae is a long way from Parliament Hill. No one appears concerned when the meeting doesn't start on time; there is no time limit on discussions and everyone has a chance to speak as much as they like.
This is the political arena Cornelius Wabasse knows well. As chief of the Webequie First Nation he embodies his community's wants and needs as ambassador to the tribal council. During the three-day-long meetings, he's more likely to be leaning in to listen rather than holding court — weighing in only when he can be confident his opinion reflects that of the 840 members he represents.
Until just a few generations ago, decisions were made by collaboration and consensus among small, nomadic groups that claimed this stretch of the Canadian Shield as their traditional land. In 1876, a federal government with a focus on assimilation introduced the Indian Act, which moved groups to reserves and imposed a Western system of elected chiefs.
Unsurprisingly, there's a deep distrust of the government among many in the nine Matawa First Nations communities, and skepticism over having any one speak on their behalf.
The discovery of the Ring of Fire, an estimated $50 billion deposit called "Canada's next oil sands," has thrust the Matawa council into high-stakes political discussions. The First Nations are under pressure from mining companies and the province to consent to complex agreements needed to move the project forward.
Development hinges on the success of talks over environmental protection, regional infrastructure, revenue sharing and social assistance with Ontario, which is striking a conciliatory tone as it eyes the royalties and jobs the Ring of Fire could produce.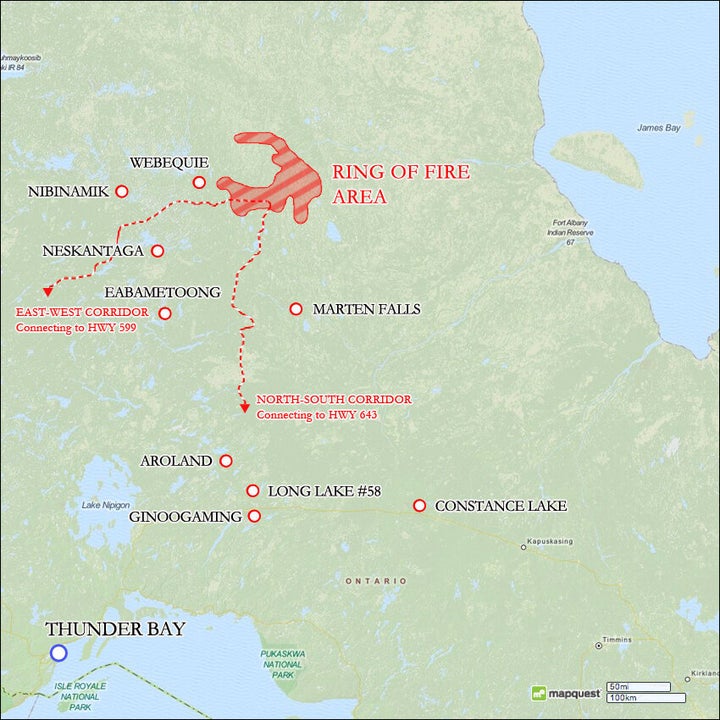 For chiefs like Wabasse, these are historic negotiations and the first time their communities have been in the national spotlight. For Rae, it is a step out of the limelight — his first post-political role since announcing retirement from his storied 35-year career in June.
The council sees Rae as their best hope: a political insider with a history of advocacy for native rights.
The veteran politician knows he is taking on centuries of government oppression that have disadvantaged Matawa communities in negotiations with the province.
"The Indian Act created small communities that have a very weak economic base and have a real challenge surviving in the modern world," he says.
The Legacy Of The Indian Act
After an urgent closed-door meeting that runs long by two hours, Rae scrawls details on the draft terms for the negotiations onto a sheet of scrap paper then races to catch a flight.
Wabasse embarks on the four-hour drive from the meeting in Long Lake No.58 to Thunder Bay, where he later departs for a two-hour flight back to Webequie.
He returns to the community exhausted from the talks. Council resolutions passed by delegates from the Matawa communities focus on "capacity building," "revenue sharing" and "Impact Benefit Agreements" — terms that are difficult for the chief to explain to his members.
Some — embittered by a voiceless past — feel alienated.
"When you bring it back to the community, there's a different perspective to what is being talked about over there," Wabasse says.
They cling to their right to self-governance, though it is an ill-defined concept. The people of Webequie believe decisions about their land and their way of life are theirs alone; Matawa cannot speak on their behalf.
The community is abuzz with anticipation for the weekend's summer festival. Chief Wabasse is just as excited as everyone else about Saturday night bingo and a square dancing competition. He is an eager participant in the do-si-do, kicking up his heels with community members until well after 1 a.m.
He split the $250 bingo admission fee with family members, but isn't set on winning the $20,000 jackpot, both because he knows others that need it far more than he does and because the politician in him worries about how it might look.
Some members of the community mistrust even their chief and council. They are, after all, paid federal government employees under the Indian Act.
"Sometimes we're caught between a rock and a hard place," says Webequie band councillor and former chief Elsie MacDonald.
"As a band councillor I am a creature of the Indian Act. On the other hand, I am an elected official by the First Nation people."
Band council has limited authority to make bylaws, which can ultimately be vetoed by Ottawa; frustrated with the arduous process, some reserves have given up trying, resulting in a lack of law and order.
The Indian Act subverted traditional methods of decision-making, replacing them with a system that prized elected leaders, gave the federal government the authority to overrule any decision by chief and council and handed civil servants de facto power over most aspects of reserve life, including land, resources, wills, education and how their community leaders are chosen.
The Act imposed a two-year election cycle, reducing the ability to make long-term plans and creating an unstable political system. Chiefs have one year to accomplish a goal before they start re-campaigning.
Story continues below slideshow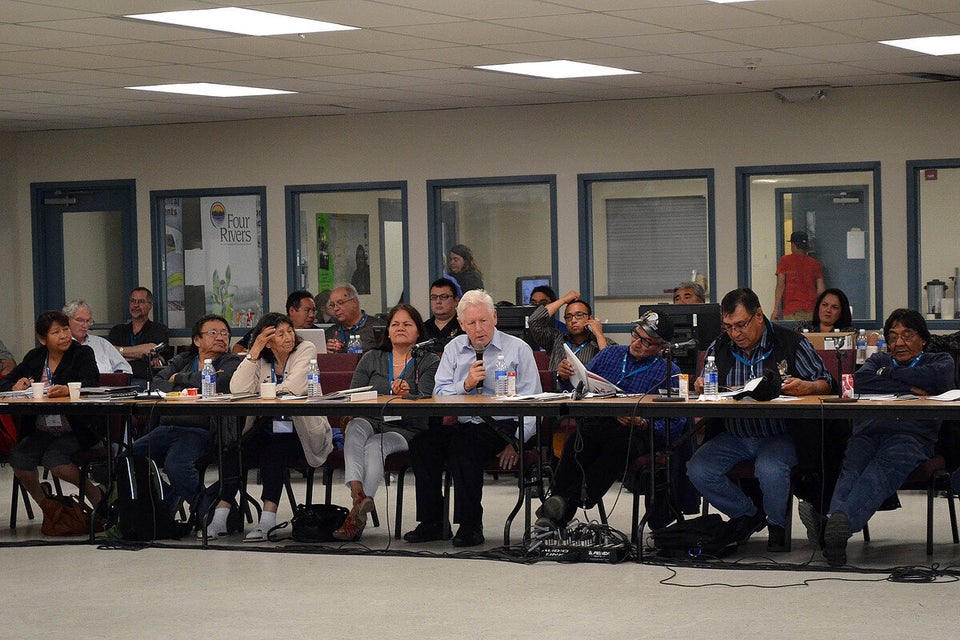 Negotiating The Ring Of Fire
Hand-shaking and grinning at community members gathered at the Matawa AGM, Rae is curt but polite as he goes through the motions with the stride of a man used to glad-handing.
"I work for you," Rae says in a speech delivered at the AGM, and littered with the inclusive phrase "we."
Retired Supreme Court Justice Frank Iacobucci, who represents the province in the negotiations, is also present at the meeting. In a joint address with Rae, the occasional tennis partners assure the delegates these negotiations will be unlike those in the past — more collaborative than combative.
After sitting on the other side of the table for so long — as Ontario premier and interim federal Liberal leader — Rae stresses he is committed to getting the best deal for First Nations people.
"We are talking about recognizing rights in a way that has not been done in Canada on a consistent basis," he says.
"Even in the last few years it's been done better, but it still hasn't been done in a way that reflects the interests of everybody."
Matawa chose Rae in the the hopes his experience and connections will be an advantage in political negotiations. But delegates privately question his intentions and whether his history doesn't present a conflict of interest.
Other community members are impressed that such a big name in Canadian politics wants to work with them. During a break in talks, many locals approach him to voice their concerns.
One harried woman is eager for the chance to ask for Rae's help in ensuring her son in addiction recovery lands a job within the Matawa organization.
As Liberal leader, Rae had a constituency office staff to handle such requests. But for chiefs who know everyone by their first name, this is politics as usual.
When Chief Wabasse returns to Webequie, the Ring of Fire negotiations take a backseat to the much more pressing needs his community faces. He hears from hungry families in search of food stamps, too poor to pay the high prices for staples at the community grocery store. He gets weekly calls about cramped housing, with up to three families jammed into one home.
He can do little but listen and sympathize. Unlike municipalities, local bands do not control their own budgets. With no source of revenue and no tax base, Webequie is one of 614 First Nations clamoring for Ottawa to open its purse strings to fund the basic functions of local government.
First Nations chiefs have recently shifted towards opening up to governments and industry interested in development on traditional land, says Grand Chief Harvey Yesno of the Nishnawbe Aski Nation, a political organization representing some 50,000 people in 49 First Nations in northern Ontario.
But without a source of revenue outside of annual federal funding it is difficult for them to adequately communicate with band members through local radio, surveys, translations — stepping stones in negotiations that are often not covered by governments or industry.
"It causes a lot of frustration with communities because that's where they see the disengagement, the lack of consultation that takes place and then what ends up happening is pointing fingers at your own chief and council," Yesno says.
Meanwhile, chiefs and councils are overwhelmed with problems and demands the community doesn't have the funding to fix.
The position of chief of Webequie is one few would envy. Some years, candidates go unopposed. With few resources and an ill-defined sense of government, Chief Wabasse must play many roles that would be delegated in the rest of Canada to police, social workers or addictions counsellors.
"If it's an economic interest, that's one thing, but the minute you're finished talking about that now you're talking about policing," Yesno says. "After that it's housing and then after that it's child welfare and that's a daily occurrence in the community."
Many of the Matawa communities must have their finances reviewed by an outside auditor as they struggle with high suicide rates, rampant drug use, housing shortages, low graduation rates and high unemployment.
Webequie is trying to escape financial co-management imposed by a federal government concerned with the reserve's overwhelming debt load.
A 1905 treaty failed to recognize Webequie as its own band, mistakenly including it as part of the Fort Hope band. For the next 100 years, Webequie sunk the little money it had — and took out bank loans to cover the rest — to see that their rights were upheld.
It succeeded in becoming an official reserve in 2001. The negotiations left Webequie with an $857,000 debt. The community believes it bears that burden unfairly because it was the cost of working within the laws of Canada and Ontario — laws they did not create or condone.
Webequie has asked the province for reimbursement for the costs of creating a reserve so that it can sit at the Ring of Fire negotiations as equals. It is still waiting.
Meanwhile, band council is also working to formalize its election, bylaw and voting processes so it is prepared to properly debate and decide on Ring of Fire-related contracts that could soon be on the table. Wabasse admits that the band should have started to build a governance structure when it became a reserve, "but that never happened."
"I think it's something new for the community, the governance," he says, adding that the laborious, overwhelming process must start at an explanation of the term itself.
All community members will have to ratify any final Impact Benefit Agreement negotiated by chief and council. Because some 200 community members live off-reserve and must be contacted for input, the process can be particularly time consuming.
Like any good chief, Wabasse seeks the wisdom of elders, who say the community must uphold its traditions and culture, but also advise that if Webequie simply denies development the people may end up with nothing.
"In order for our community to prosper it has to come from development," Wabasse says.
"We can't depend on the government. We can't depend on the welfare system; those things will probably fade away so that's why we need to develop our own governance structure for our community."
It's not just a question of First Nations versus the government or miners. There are also internal conflicts standing in the way. At least three Matawa communities, Webequie, Marten Falls and Neskantaga (also known as Lansdowne House) have overlapping claims to the land they consider their traditional territory. Elders tell tales of how the Ring of Fire region was an ancient meeting ground for members of neighbouring bands.
Now with an influx of resource companies interested in the land, there is a need to delineate traditional territory that was once seen as shared land, inherited from the Creator.
And First Nations are drawing lines in the muskeg.
"[These lands] are not Webequie's or Lansdowne's or Matawa's; they are ours, and for what happens there, you'll have to get our agreements first," Marten Falls' Chief Eli Moonias told a House of Commons committee in 2012.
Webequie struck an exploration agreement with MacDonald Mines to begin its search for valuable chromite in 2010. A celebratory press release was issued and the company began drilling. But Marten Falls stepped in shortly after, wondering why it wasn't consulted on territory it claimed as its own.
Overwhelmed by the dispute, MacDonald cancelled the contract with Webequie and stopped drilling.
Miners are frustrated by the lack of clarity on who they must consult. They say it's up to the communities to settle such competing claims.
"The issue is very simple: Just tell us the rules. There are no rules. Each community has its different desires and negotiations," MacDonald Mines CEO Kirk McKinnon told the committee.
Since then, Webequie and Marten Falls have laid out a relationship protocol, under which they will hold joint discussions and collaborative planning sessions on how to minimize impacts and maximize benefits for their communities.
While the nine Matawa communities insist on independent agreements with industry, they feel they can trust one another enough to leverage the power of unity in negotiations with the Ontario government, where discussions are more regional in scope.
The Matawa First Nations have a history of working together, a relationship that was formalized in 1988 as an advisory group on shared interests such as land claims, jobs and education. But the role of the tribal council — whose base funding comes from the federal government — has since morphed into something between a development corporation, regional government and lobby group — to the discomfort of some of its members.
CEO David Paul Achneepineskum, who sits quietly at the back for the majority of the meeting while chiefs carry the conversation, insists Matawa is not trying to act as a government.
"The true intent of Matawa is to build capacity in the communities so that they themselves can carry on their own governance. At the same time they see the need to remain united as one and the need to advocate as one."
The Matawa communities need only look east to Attawapiskat — which made front page news as a source of national embarrassment — to see the pitfalls of botched negotiations that can leave First Nations in third world conditions even after allowing development on their land.
Though Attawapiskat has an Impact Benefit Agreement with De Beers Canada, which operates a major diamond mine 90-kilometres away, the impoverished community was forced to declare a state of emergency twice in the past two years over a shortage of dilapidated houses and flooded basements that community members are too poor to repair.
But they can also look to the eastern shore of James Bay for an example of development done right can lead to economic independence.
The Cree of northern Quebec signed Canada's first modern treaty, the 1975 James Bay agreement. They have since used the $225 million received in exchange for giving up land in northern Quebec to spark development — building schools and aboriginal-owned businesses. They have negotiated revenue-sharing agreements on dams and mines and $70 million a year is flowing into the community to fund their most important goal: self-government.
The Ring of Fire will provide an opportunity for all Matawa First Nations to move toward the vision of self-sufficiency, says Chief Peter Moonias, of Neskantaga First Nation, one of five remote reserves that are part of Matawa.
"The general public is starting to understand why we want to be self-governing people within reserve lands," Moonias says. "We signed a treaty because we believed that we [had] sovereignty."