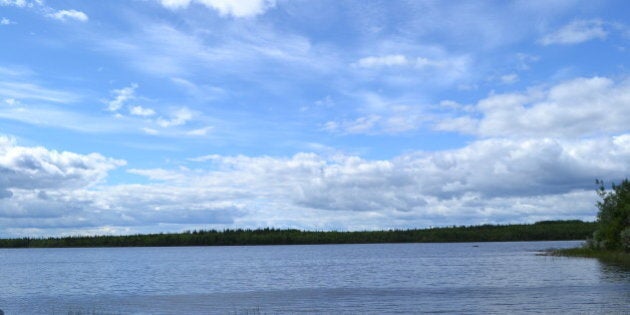 Ontario's mining minister says Ring of Fire negotiations are "productive and encouraging," despite a series of setbacks including the exit of the biggest player, the federal government's lack of commitment and turmoil in the global mining industry.
At a press conference on Friday, Michael Gravelle had a clear message: Talks between government, industry and First Nations are moving ahead.
"No matter what else happens, we are determined to see the Ring of Fire go forward," he said.
But there were scant details on the project's timeline. Development hinges on the success of talks between First Nations and the province over environmental protection, infrastructure, revenue sharing and social assistance.
The province is keen on pushing ahead as it eyes the royalties and jobs that could flow into Ontario's Far North, where an estimated $60 billion in mineral deposits lie within the 5,000-square-kilometre track of land.
Transportation to market from the remote location has been one of the key sticking points that has prevented development so far. Gravelle announced Friday that consulting firm Deloitte will help guide a development corporation that will be responsible for infrastructure.
The development corporation was announced months ago, but so far none of the players have committed to it. Gravelle said the province decided to call in a third party because First Nations and miners wanted further examination of the infrastructure question.
"We believe the Deloitte report will advance the process in a positive way that will make it easier for the partners to come together," Gravelle said.
Deloitte will act as a neutral third-party adviser in the hopes it will speed agreement on the best way to build a route connecting the region to the Trans-Canada Highway. But Gravelle said it's unclear whether the firm will provide a conclusion on the best mode of transportation.
One option is a road that would run closer to several isolated First Nations communities near the Ring of Fire and connect to the Trans-Canada Highway. Another option is a road that would cost more to build, but is a more direct route and therefore more cost-effective in the long run. Further options that have been tabled include everything from rail to hovercrafts, Gravelle noted.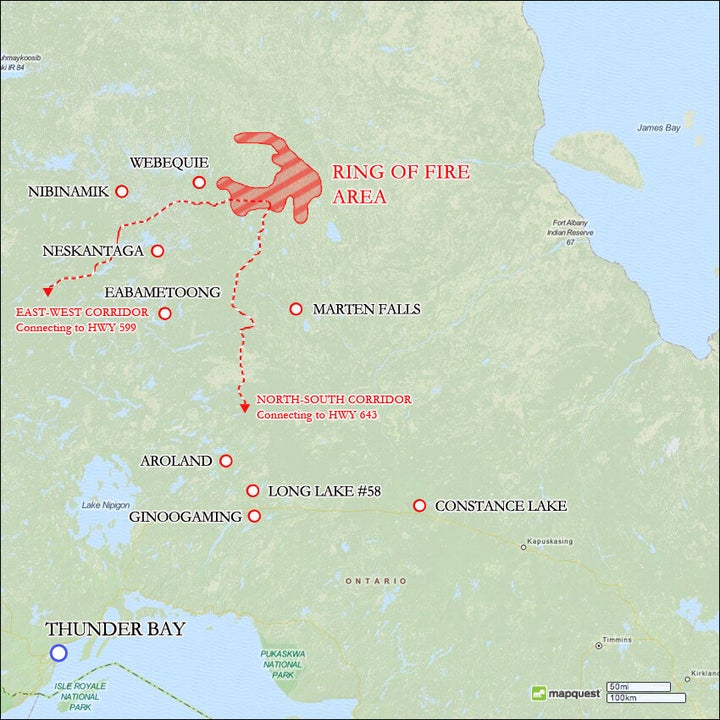 The firm will also provide advice on governance and legal issues, as well as timelines for how the corporation, which is still just an idea, would be formed.
Progress so far has been frustratingly slow for some of the miners involved. Global mining giant Cliffs Natural Resources announced late last year that there was too much uncertainty over the project and pulled out. The company called off their $3.3 billion chromite project amid internal struggles with crippling debt and shrinking profits.
Gravelle also said that there has also been "significant progress" toward a regional framework agreement between the province's chief negotiator Frank Iacobucci and Bob Rae, who is representing the nine First Nations communities who will be most affected by by development in the region.
He expects the province will soon be able to make an announcement that chiefs have signed on to the framework. After that, the talks can move on to more concrete — and potentially more contentious — issues ranging from infrastructure to investments.
However, Gravelle also said he was "disappointed" that the federal budget delivered earlier this week made no mention of the Ring of Fire, despite Ottawa's recognition of the national economic significance of the project.
"I was surprised, frankly that there was nothing in there about the Ring of Fire," he said.
The province has consistently called on Ottawa to do more than pay lip service to the importance of the lucrative mining region. Queen's Park wants the federal government to back up its words with money to help pay for the hundreds of millions in infrastructure the project requires.
Friday's announcement comes at a challenging time for the mining industry. Commodity prices have plunged, meaning miners are earning less. Weaker profitability means few companies are in the mood to invest in big projects.
When commodity prices were soaring a few years ago, miners were raising capital for new projects faster than they could get regulatory approval. Now, the biggest impediment is financing.
Cliffs announced earlier this week that it would idle production at its Wabush mine in Labrador because it is no longer economically viable. That put 500 people out of work.
Canada's largest gold miner Barrick Gold, which lost nearly $3 billion in the latest quarter, has not been able to find financing for its Cerro Casale mine. Canadian Zinc is in the same predicament with its Prairie Creek project.
Gravelle said that while the industry is certainly seeing "challenging times," he is not concerned about its impact on the Ring of Fire because commodity prices are cyclical and development in the region could last for decades.
The lull in investor interest gives the province, First Nations and miners more time to reach an agreement that benefits all.
"While we are keen to move as quickly as we can, we also want to ensure we get it right."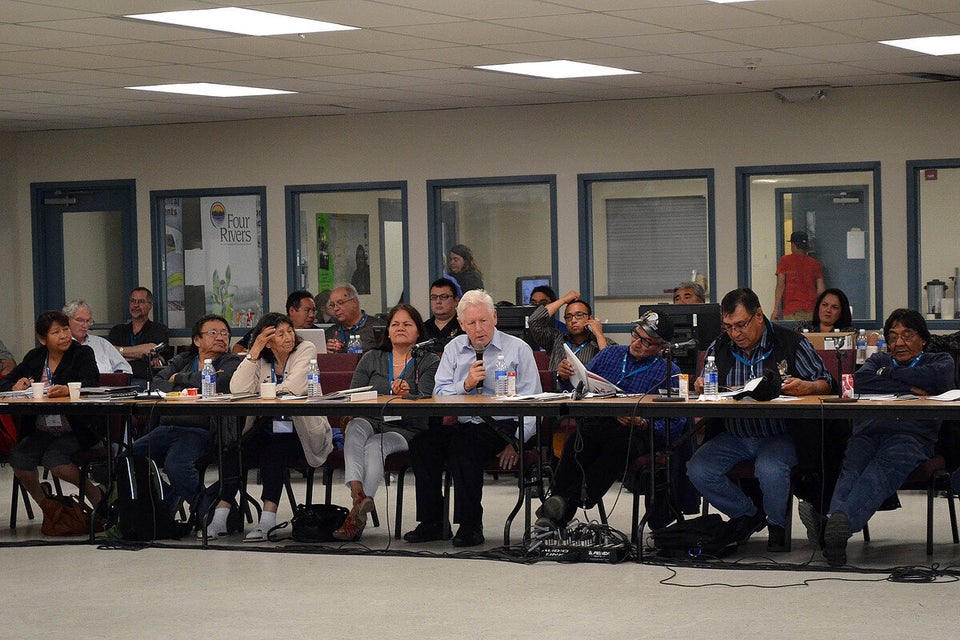 Negotiating The Ring Of Fire