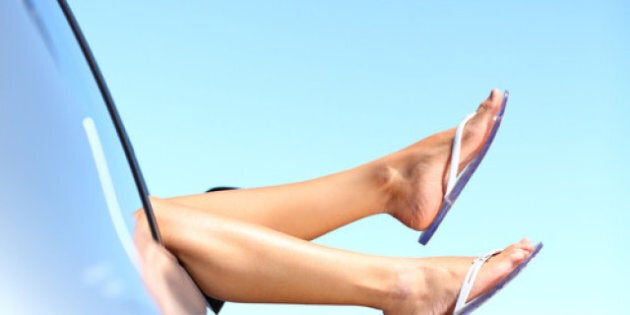 Call it the road trip conundrum -- that phenomenon where, even as adults, our journey to our destination seems to take forever while the return trip whizzes by at warp speed. You thought it was all in your head, right? Well, you're wrong.
Researchers interviewed 350 people who were travelling somewhere and found on average, people estimated the trip home to be 17 to 22 per cent shorter than the trip there. In reality, neither trip was longer -- it was simply how the participants perceived the journeys. Some of the participants took a bike ride to their destinations and reported the initial journey took 44 minutes while the return was 37 minutes -- however, the journey only took 35 minutes each way.
Why are our time estimations so skewed? "People often underestimate how long the outward journey takes and this is therefore experienced as long," study author Niels van de Ven of Tilburg University in the Netherlands said in a statement. What's more, "the traveller expects the return journey to be long as well, and this then turns out to be shorter than expected," he adds.
It makes perfect sense, really -- we're so excited about getting to our destination we downplay the amount of time it will take to get there and end up feeling frustrated when the journey takes too long. On the other hand, we're fully expecting a tedious journey on the way home so we're pleasantly surprised when we make it back ahead of schedule. The researchers also noted the "return trip effect" doesn't happen on routes you know well, such as your morning commute, because you're already an expert at estimating the journey times.
Furthermore, we're usually in more of a hurry when we're on our way to a vacation spot. "When you have a destination you want to be there on time," Richard A. Block, a psychologist at Montana State University, told the NPR. "But when you go back home it does not matter that much. Thus, when you are going there, your attention is more focused on the target and not distracted." In other words, distractions make the return trip seem shorter.
While it's great we're finding the trip home so easy, it does raise one question: is there anything we can do to make the initial journey seem far less extensive? Yes! Simply overestimate the amount of time it will take you to get there. For example, if you believe and expect your upcoming trip will take five hours, you'll feel like you've won the lottery when you make it in three and a half. Also keep in mind distractions help -- play word games or listen to a book tape the next time you're going somewhere.