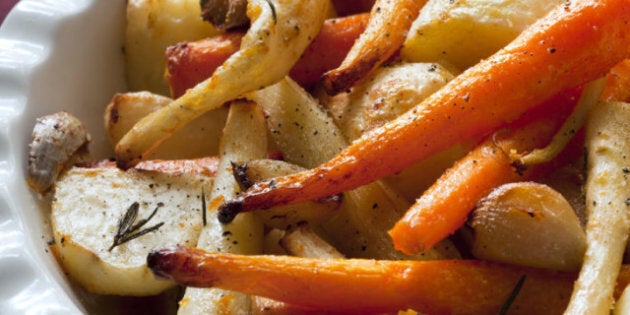 Even if you're not a fan of veggies, you'll love this recipe as the heat of the oven caramelizes the natural sugars of the root vegetables. This recipe will taste even better if you invest in local, organic produce -- they're much more nutrient-dense than veggies that have travelled long distances.
5-10 cloves of garlic peeled
Note: the beauty of cooking is that you can be creative. For instance, if you can't find celery root, then just use more carrots or parsnips. Don't worry about precise measurements. Cooking can and should be fun, so don't stress over ingredients if you can't find.
Pre-heat the oven to 400F. Peel and wash all root vegetables and cut into chunks. The key is to have similar size chunks so they cook evenly and at the same rate. Onions are the exception and can be quartered or halved (larger) chunks because they cook faster than the other vegetables.
Place all cut root veggies into a roasting pan and add the whole cloves of garlic. Drizzle with olive oil and sprinkle with chopped fresh (or dried) rosemary and sea salt. Place in oven uncovered for 45 to 60 minutes, until the veggies are fork tender and slightly browned on the edges. Serves four.
Joy McCarthy, registered holistic nutritionist and health coach of Joyous Health, loves to inspire others to eat well and live well. She also teaches an array of wellness workshops and co-creator of Eat Well Feel Well, a six-week nutrition and yoga course in Toronto. Joy welcomes your questions or comments.
Please note: All of these recipes are created in her joyous kitchen with the healthiest ingredients. She's not a calorie counter or a professional chef -- She's a nutritionist who loves to cook and bake, and she's delighted to share her creations with you.
Popular in the Community