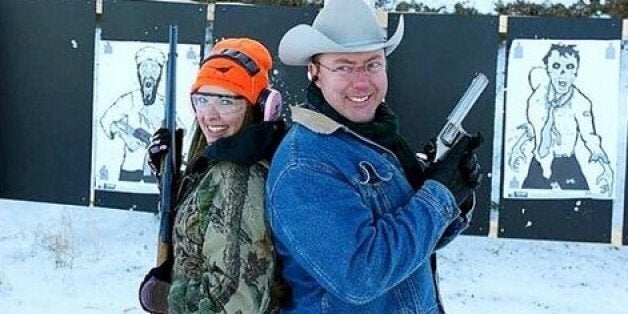 One of Canada's most controversial members of Parliament is at it again.
This time, Calgary West MP Rob Anders is facing criticism for posing at a shooting range in front of a target that depicts Osama bin Laden.
Souheil Merh, chairman of the Muslim Council of Calgary told the Herald that the photo crosses the line and portrays Muslims as terrorists "who should be shot or belittled."
"As leaders, they should promote tolerance and show the real image of Canada, a peaceful place where people come to enjoy freedom of speech and religion, and not being judged because of somebody else's actions," Merhi said.
Unsurprisingly, the image sparked some debate online.
In a blog post, Herald columnist David Marsden called the photo inappropriate.
"Guns, of course, have a role to play in society. Racism, no matter how it's concealed, does not," he wrote. "And Anders and Mathieson have no role to play in public office."
And some people took to Twitter to voice their displeasure.
But others weren't convinced this was a big deal, considering bin Laden was responsible for the deaths of thousands of innocent people.
"Conservatives in our riding deserve better representation on the Prime Minister's team," Liepert wrote on his website.
Anders has shot back that Liepert and the people behind him are just "red Tories" who want to take over what is considered one of the safest Conservative seats in Canada. Anders was first elected under the Reform banner in 1997 after the seat was vacated by none other than Prime Minister Stephen Harper.
But Anders has had a number of high-profile controversies over the years.
He was the sole parliamentarian to vote against making Nelson Mandela an honorary citizen in 2001, labeling the anti-apartheid leader a "terrorist and a Communist." After Mandela passed in December, Anders hinted to a reporter that his opinion hadn't changed.
Anders' alleged trouble staying awake has also sparked headlines. He was accused of falling asleep in the House of Commons and allegedly dozed off during a meeting with veterans about homeless ex-soldiers. Anders responded to that controversy by calling members of the Veterans Emergency Transition Services "NDP hacks."
But does posing near a cartoon drawing of bin Laden at a shooting range qualify as another low-light? Tell us in the comments.
Popular in the Community