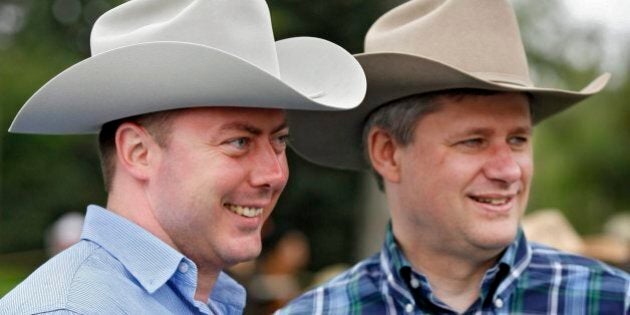 OTTAWA – Stephen Harper is endorsing every incumbent Conservative MP facing a challenge for their nomination in 2015, The Huffington Post Canada has learned.
On Monday, controversial MP Rob Anders made waves when he posted on his website an endorsement from Harper.
"Rob Anders has been a strong voice in our caucus and Conservative government as well as a valued member of our team. The Road to 2015 is one that needs strong, stable leadership, and I've been able to count on Rob to get real results for his riding and our country," Harper is quoted as saying.
The quote, in which the Tory leader "supports MP Anders" was provided to him by the Conservative Party, party spokesman Cory Hann confirmed.
"It reflects the Prime Minister's views about his caucus member," Hann said.
Anders is facing a tough challenge this spring from former Alberta cabinet minister Ron Liepert for the Conservative nomination in the new riding of Calgary Signal Hill. Anders won his Calgary West riding in 2011 with 62 per cent of the vote. Whoever wins the Conservative nomination is expected to win easily in the next federal election, set for the fall of 2015.
Liepert would not comment on whether it is appropriate for Harper to endorse incumbent MPs and get involved in local races.
"That's for someone else to comment on," he said, noting that he had received several emails from supporters questioning Harper's actions.
In Calgary Signal Hill, Liepert said Harper's 11th-hour endorsement would not switch any votes but was a sign of Anders's desperation.
"He is on life-support and realizes it, and is now taking these measures to shore up his support. Harper is very popular in this riding – this was his riding when he was first elected as an MP," Liepert said.
The Conservative Party of Canada reached out, Liepert said, to tell him that Harper's endorsement was not unique and is part of a plan to endorse all current MPs.
HuffPost was also told Monday that the Tory leader has provided an endorsement quote to all incumbent MPs facing a challenge. There are only a handful of Conservative incumbents in that situation since the party has refused to allow current MPs to battle each other for the same riding.
Mississauga-Brampton South Conservative MP Eve Adams was one of several MPs who did not return calls inquiring whether they had received an endorsement quote from Harper.
Adams plans to leave her riding for a safer Conservative seat in the new riding of Oakville North–Burlington. She recently purchased a home there with her fiancé, Conservative Party executive director Dimitri Soudas, and has been campaigning in the area for nearly a year. Her website lists recent events she has held with Oakville and Burlington residents but makes little mention of Mississauga. (Sources say Soudas will be prohibited from any involvement in the Oakville North–Burlington race).
Adams's top challenger is Natalia Lishchyna, a chiropractor who works at a teaching clinic in Oakville. She would not comment specifically on the appropriateness of Harper's endorsements, but she took issue with the idea that the Mississauga-Brampton South MP could be considered an incumbent in the new riding.
"I am running in a new riding where there is no incumbent MP, so from the standpoint of incumbent MPs' getting endorsements across the country that is one thing, but in my riding there is no incumbent MP," she said.
"[It's] the only one where the MP is coming from a whole different place, where there is no part of that riding that is part of the new riding."
When she goes door-knocking, Lishchyna said, she reminds residents that she has been living in Oakville for more than 11 years – it's where her family is and her kids grew up.
"That's what the difference is: buying a house and saying that this where you live, isn't really where your roots are."
Hann, the party spokesman, would not say if Harper's endorsement of Anders was the first the Tory leader has given. The nomination battle in the Calgary riding is already under way, and membership sales have already been cut off, while the Oakville North–Burlington race, for example, has yet to begin officially.
"We are running a fair and open nomination process," Hann responded.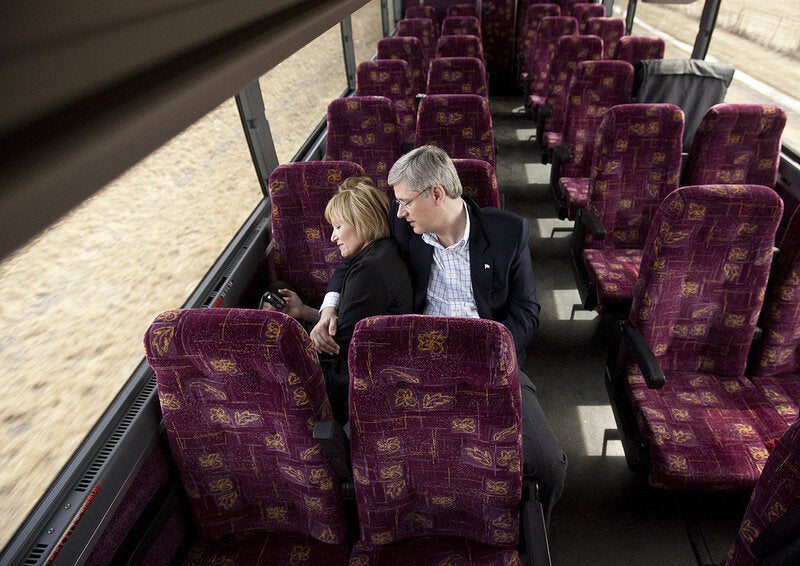 Memorable Stephen Harper Pictures