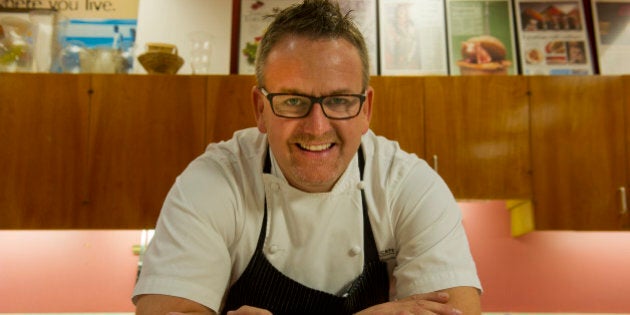 But that was back in 2005.
Since then, Feenie has gone on to publish recipe books, create, own and cook at a couple of Vancouver restaurants before joining the Cactus Club Cafe, where he currently sits as the chain's executive chef.
Despite Feenie's days as a reality show contestant being long over, he still channels the same poise and energy from his time as a competitor, albeit in a space a fraction of the size found on "Iron Chef."
In an upstairs demo kitchen in mid-town Toronto, some 4,300 km away from his home in White Rock, B.C., Feenie guides a team of sous chefs as they ready octopus stew, tuna carpaccio and roasted squab breast for a dozen guests.
Also tagging along with Feenie are new Cactus Club Cafe locations. After opening the chain's latest location in Edmonton, the franchise is looking to bring Ontario its first location with a restaurant in downtown Toronto for 2014.
The Huffington Post Canada sat down with the chef after the meal and a few glasses of wine to grill him on food, travel and how it can all tie into Canadian cuisine.
I get the feeling you travel a lot. What's your most memorable food city?
Barcelona. I had one of the best people to show me it: the late Santi Santamaria, who unfortunately passed away a couple of years ago. To have, at the time, what diners considered one of the top chefs in Spain show you Barcelona, and eventually his restaurant, is something I'll never forget. In fact, for my tenth anniversary, I'm taking my wife to Paris for two days and Barcelona for four.
Tonight we did a lot of drinking –
Fair enough. What do you make after a boozy night out?
Ha, I don't actually recommend doing that. Sometimes I'll actually open up an old bottle of wine like a Tempranillo and make my pizza. I keep dough in the freezer and I always have pizza sauce ready to go for a home-made pie. They're easy to make and they're not like a deep-dish pizza; they're thin. When the kids go to bed on the weekends, that's when my wife and I make it — otherwise the kids eat the whole thing.
And you keep those ingredients on hand?
Tomato sauce is always in the fridge. I'll have some Parmesan, some olive oil, basil, and some cured meats like prosciutto lying around so I put it together real quick. It's not throwing everything on.
What's in your emergency survival pantry?
I'm a big fan of olive oils. I've got anywhere between 19 to 20 olive oils in my kitchen right now, so olive oil is a big one for me. Sea salt is another big one for me and tomato sauce I make from scratch and keep as opposed to buying it. They're all easy things to work with. And oh, vinegars. A nice balsamic or an aged sherry.
What would you be doing if you weren't a chef?
I'd be a professional golfer. I love the sport and have been playing it for just over 10 years now.
Let's bring things closer to home. How do you define Canadian cuisine?
I think Canadian food is really about identity these days.
What I get excited about is local food — whether it's our beef, our pork or our fish, our vegetables or dairy. You know, Quebec alone produces over 300 variety of cheese, so that's what I look at from a Canadian perspective. It's also about supporting our suppliers — backing them up and backing local. And it's not necessarily about being organic, but it's about local. That's what being truly Canadian is.
I also think the multiculturalism in this country has really helped us developed because I look at Vancouver and the Chinese, Filipino and Vietnamese cuisine and that's what we do as well. There's no distinct way of cooking, I think we've got great product and it's how we integrate it.
What's a Canadian restaurant you'd recommend?
What's the best restaurant you think no one's ever heard of?
Supporting my own community is important to me. The Seahorse Grill in Crescent Beach, B.C. is my and my wife's favourite neighbourhood restaurant. It's small, cozy and the food is simple but very well prepared.
What's a unique food you'd recommend trying?
I've been out to Japan where I've had Fugu (blowfish) — no one has to worry since I've never cut it — but I had two sushi chefs there serve it to me and all I ate was fugu. I had everything from the soup with the bones to the meat four or five times a day. For me, I think of how scared I was because we went straight to the fish market in Osaka, picked them up and looked at these things thinking "I could die". But for me, that was a magical moment. I love sashimi and I got treated by these two chefs and that was two of the most memorable days in my career.
What's the craziest thing you've done in the kitchen, culinary or otherwise?
I lost all the gas in one of the restaurants I was working at with the last 15 customers still to cook for. I was in Whistler at this place called Mama's Café. Luckily I was with a bunch of bushmen. We made this makeshift fire and I cooked the rest of the meals on that. It was crazy.
Like this article? Follow our Facebook page

Or follow us on Twitter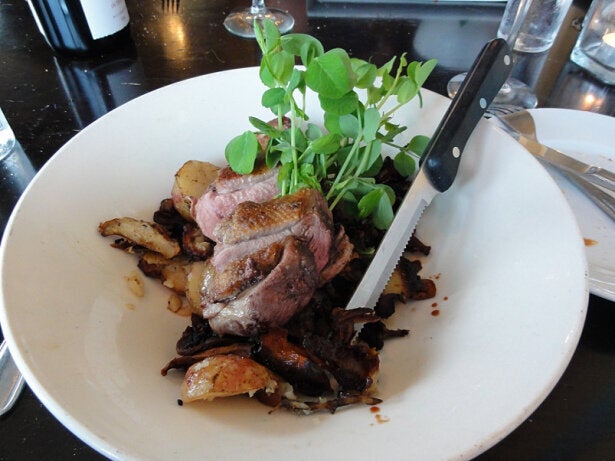 How To Eat Your Way Across Canada
Popular in the Community