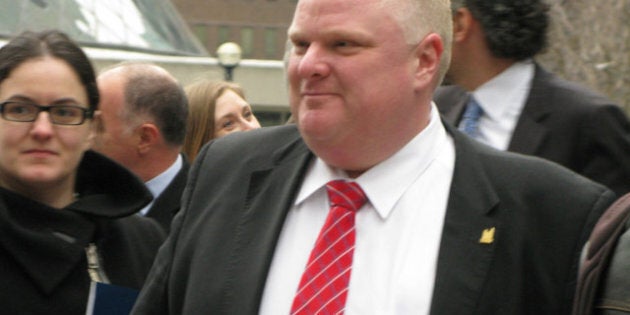 When Toronto Mayor Rob Ford rolled into city hall just over a year ago on his 'stop the gravy train' campaign pledge, who knew what a bumpy ride the trip would be. This morning, a quick Twitter search tells you he's about to have an interesting day.
So different that when a well-known member of CBC's This Hour Has 22 Minutes ensemble, Mary Walsh, arrived dressed in her warrior princess attire, the mayor failed to do what most politicans do — put on the grip-and-grin smile.
In a statement published Thursday on his Facebook page, Ford conceded he had used profanity, but denied he used personal attacks.
"When I made the 9-1-1 call, I was concerned and upset. I was repeatedly told police were arriving soon. In another call, I expressed frustration with the delay and said that I had to leave to go to City Hall. I did use the "f-word" at some point as I expressed my frustration with the situation. After being attacked in my driveway, I hope I can be excused for saying the f-word. I never called anyone any names. I apologize for expressing my frustration inappropriately."
Needless to say, reports on the mayor's outburst sparked a flurry of reactions on Twitter Thursday, including one with the hashtag #fordrecall. Here is a sampling. What do you think?