Toronto Mayor Rob Ford admitted that he may have driven after drinking alcohol, said he plans to sue four police witnesses, and stunned reporters by using explicit language to deny a sexual relation with a former staffer.
The embattled mayor told reporters at City Hall on Thursday morning he plans to take legal action against three ex-staffers — Mark Towhey, Isaac Ransom and George Christopoulous — after shocking new allegations of alcohol and drug abuse were made public in a court document released Wednesday.
Ford said he will also sue a waiter at Toronto bar Bier Markt who told police he may have seen the mayor do cocaine last St. Patrick's Day.
Later, Ford told reporters he may have gotten behind the wheel after drinking, an allegation made in those court documents.
"Yeah, I might have had some drinks and driven," he said in a press scrum.
The mayor also denied allegations he partied with a suspected prostitute. Ford said the woman — Alana — is a friend.
"And it makes me sick how people are saying this," Ford said. "So unfortunately, I have no other choice. I'm the last one to take legal action, I can't put up with it anymore."
Ford warned reporters on Wednesday to be "very careful on what you write."
The mayor also addressed allegations in the documents that he drunkenly told former staffer Olivia Gondek that he wanted to perform oral sex on her.
"The last thing was Olivia Gondek... it says that I want to eat her pussy. I've never said that in my life to her. I would never do that," he said. "I'm happily married and I've got more than enough to eat at home."
Just a few hours later, Ford held a noon press conference to apologize for his remarks. His wife, Renata, made a rare public appearance at his side in front of a huge throng of reporters at City Hall.
"For the past six months I have been under tremendous, tremendous stress," the mayor said.
He said these allegations of drugs and prostitutes are "100 per cent lies" and that he was pushed over the line when he made the sexually explicit comments.
"When you attack my integrity as a father and as a husband, I see red."
He added that he is receiving support from a team of healthcare professionals" but declined to specify what kind of help.
"Mayor Ford has never made comments of that nature to me," she wrote in an email to the Sun. "I was not present at the time the alleged comments were made and I was unaware of them."
Ford's vulgar comments drew quick denunciation from fellow councillor and deputy mayor, Norm Kelly.
"Under stress, he tends to revert to the language of the locker room and that's fine in the locker room or maybe at a frat party or having a good time with your buddies in private but not of the chief magistrate in public,'' Kelly said.
Ford, however, was unapologetic, standing by his comments minutes later in council chambers.
"If you're offended, I'm not apologizing, because put yourself in my shoes if someone said that about your husband or your wife,'' he shouted.
On Thursday, council overwhelmingly passed a motion asking Ford to take a leave.
Coun. Denzil Minnan-Wong, who sponsored the motion, called his language "completely unacceptable'' and said it was high time the mayor resigned.
"He used the P-word in a very derogatory way,'' Minnan-Wong said.
"The mayor of our city should not be using language like that, he shouldn't be speaking about women like that.''
On Friday, council will hold a special meeting to try to strip Ford of his mayoral powers and hand them to the deputy mayor.
Several councillors turned their backs on the mayor when Ford entered the council chamber a few hours after his live, on-air statement.
With files from The Canadian Press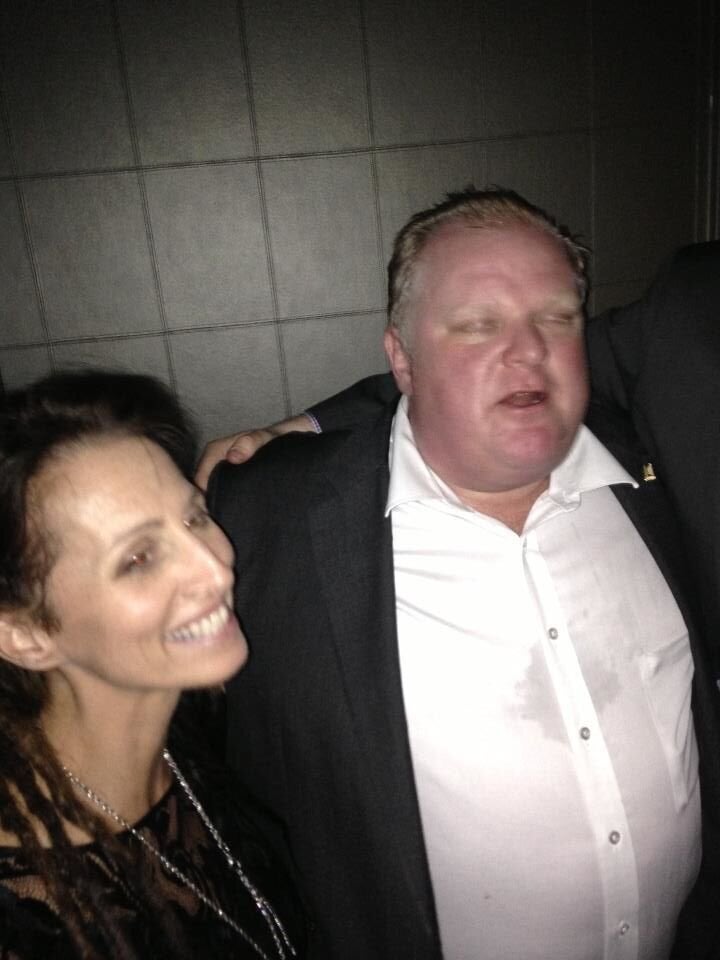 Toronto Reacts To Ford's Comment