Rob Ford says an addiction "disease" that cannot be cured caused him to say and do ugly things in the past.
But the Toronto mayor won't say if he will resign if he falls off the wagon again.
And if Torontonians have questions about why he still won't speak with police investigators, Ford says they should direct them to his lawyer.
Ford, fresh from seven weeks at the GreeneStone rehab facility in Muskoka, granted interviews to CBC News and CP24 Wednesday morning.
The mayor stayed doggedly on message in both, blaming past controversies and scandals — including his racist, homophobic and misogynistic slurs — on his past alcohol and drug abuse.
Ford told CBC News' Dwight Drummond that while he drank at City Hall, he never used drugs in his office. The mayor also admitted that he was smoking crack in the video viewed reporters at The Globe and Mail in May. Ford took a leave of absence shortly after that story broke.
When Drummond listed a number of different drugs that Ford may have tried — from marijuana to heroin — Ford said "you name it."
But the mayor later denied to CP24 that he ever tried heroin.
When pressed about the racist and homophobic remarks he made in the past, Ford said he couldn't imagine using that kind of terminology but that having an addiction means "you say things, do things that aren't you."
But Ford was tight-lipped in both interviews about why he still hasn't met with police investigating both him and the shady associates the mayor now claims are out of his life.
Ford told Drummond he "absolutely" understands why citizens would like him to speak with the cops but Dennis Morris, "the best criminal lawyer in Canada," has advised him not to.
The mayor was also quiet on how LeAnne McRobb, a former patient at GreeneStone, came to be behind the wheel of his SUV when she was charged with impaired driving in May.
Ford admitted he gave her his keys but said other questions would need to be directed to GreeneStone.
When Drummond repeatedly asked if Ford will resign if he again abuses drugs or alcohol, Toronto's mayor suggested he isn't thinking that far ahead.
"I know I didn't drink yesterday. I know I haven't drank today," he said. "I'm taking it one day at a time."
CP24's Stephanie Smyth also asked Ford what kind of drugs he has done.
"Every drug that you can think of, probably. Marijuana. Mushrooms. Everything you can think of," he said.
But when asked directly if that includes heroin, as has been suggested in the past, Ford said no. When Smyth asked how he got the drugs, Ford said he wouldn't get into the "criminal element."
"I do not associate with those people," he said.
And, in perhaps a sign of things to come, Ford even used his addiction issues as a way to duck a question about whether he will attend Pride festivities next year. Smyth asked him, point blank, if he'll go the event next year if he is re-elected in October.
"Again, I'm going to take it one day at a time," he said. "That's how we deal with this disease."
Ford told Smyth he isn't cured of his addiction after just 60 days in treatment. He does not think the stress of being mayor triggers what he calls "uncontrollable cravings" and says "keeping busy" will help keep him on the straight and narrow.
"I was born with blond hair, I'm going to die with blond hair," he told Smyth. "I was born an alcoholic, I'm going to die an alcoholic."
But it appears Coun. Doug Ford isn't singing from the same songbook as his brother.
Doug Ford told reporters that his brother's disease is curable.
Toronto voters head to the polls on October 27.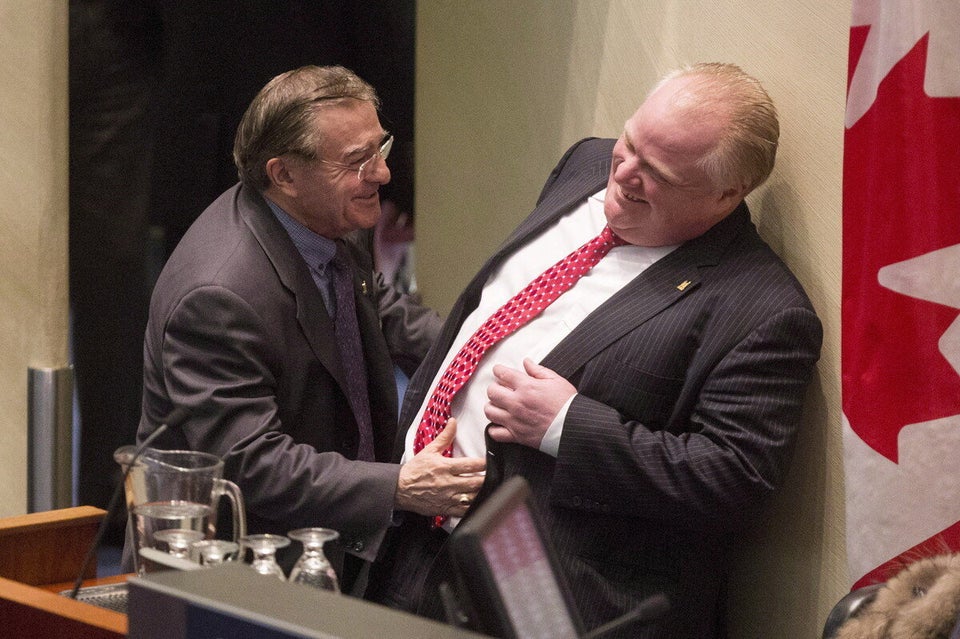 A Brief History Of Rob Ford Apologies