UPDATE, 5:38 p.m. ET: A statement released by Rob Ford's chief of staff, Dan Jacobs, says the councillor is receiving treatment that is "palliative in nature," but he has not been transferred to a palliative care unit.
Jacobs said in a news release on Monday evening that Ford is receiving palliative care "in conjunction" with other treatments and has been "almost since first becoming diagnosed." He went on to say that the care is helping him deal with pain and allowing him to rest comfortably.
Ford's family is still by his side as he fights what doctors describe as "an extremely serious illness," according to Jacobs.
"They are very concerned with the reappearance and progression of the disease, but everyone is hopeful that his body will be able to fight back enough that he can undergo further treatment," the release read.
Read the full statement here:
Former Toronto mayor Rob Ford is battling his rare form of cancer with palliative care, according to reports.
His chief of staff Dan Jacobs told 680 News Monday that Ford, who still serves on city council, has been sedated for the pain and is unconscious. His family members remain by his side and are "hopeful," Jacobs told 680.
The news was also confirmed by The Toronto Star Monday afternoon. Doug Ford told The Star that he has been by his brother's side at Mount Sinai Hospital for the last five days.
"Rob is a fighter and continues to fight. We are so grateful for all the support for him from all over the world," he said.
Ford was diagnosed with pleomorphic liposarcoma in 2014, forcing him to abandon his bid for re-election as mayor. He had surgery last spring to remove a tumour from his abdomen.
In October, he revealed he had a new tumour growing on his bladder.
Last Thursday evening, Jacobs released a statement denying rumours circulating on social media that Ford had died.
"With his family beside him, Councillor Ford is currently in hospital as he continues his battle against cancer," the statement read.
CBC News reported last week that Ford's cancer has not responded to his latest round of chemotherapy — the ninth he has undergone since being diagnosed — and his doctors hope his strength will return enough to try another drug cocktail.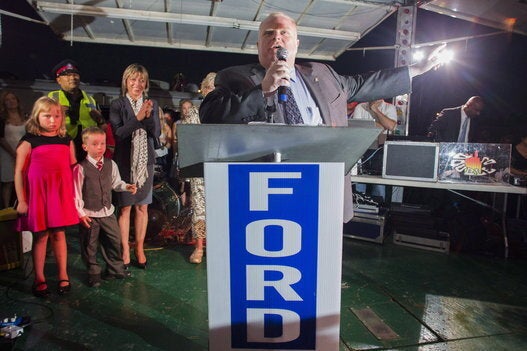 Rob Ford's Cancer Battle
Popular in the Community