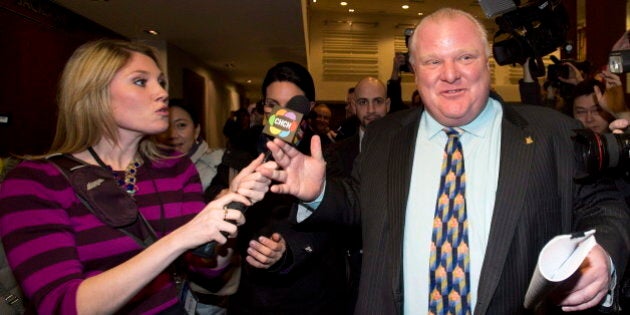 It seems the situation in Toronto has officially gone from awkward to extremely awkward.
Embattled Toronto Mayor Rob Ford, who was stripped of his most meaningful powers back in November, attended a glitzy dinner hosted by the Toronto Region Board of Trade on Monday night.
The only problem? He wasn't welcome. At all.
On November 1, board president Carol Wilding released a statement calling on Ford to take a leave of absence after it was revealed Toronto police were in possession of a video that appears to show him smoking crack cocaine.
"The Mayor of the city must put Toronto first," she said in the statement, urging Ford to take a leave of absence "until the situation is resolved."
Of course, Ford opted not to heed her advice.
And, on Monday night, Ford showed up unexpectedly at the 126th annual dinner hosted by the Board of Trade at the Metro Toronto Convention Centre, featuring the who's who of Toronto's business community.
Organizers told The Globe and Mail that the mayor wasn't on the guest list and was ushered to an empty seat at the back of the room. One official called the situtation "awkward" in the extreme. Deputy Mayor Norm Kelly, who assumed most of Ford's duties, was featured in the brochure and seated prominently.
Complicating matters further, the mayor claimed he was invited. And had proof.
Ford later tweeted a photo of his invitation to the event, which was dated November 11.
Wilding told The Globe that the group absolutely did not invite Ford to attend the event but tried to be courteous.
"I think it would be disingenuous to extend an invitation when under current circumstances our statement holds," she said.
Ford told the Toronto Sun his assistant had to pull some strings to get him in the door and, once inside, he got the sneaking suspicion he wasn't welcome.
Perhaps that is because he received a call earlier in the day saying he shouldn't show up.
"I got a call on the way over to the event from one of my staff telling me that someone left a message on a voicemail that I was no longer invited," he told The Sun. "It was too late. I hadn't heard about this. I was already there so I decided to go in anyway."
Scott Brownrigg, director of public affairs for the Board of Trade, told the Sun that Ford's invite was sent by mistake and that he left a message in December saying it would be best if he didn't attend.
As it turns out, Ford only stayed for about 30 minutes and, according to the National Post, decided to leave after Wilding gave a speech that obliquely ripped his leadership.
"Regrettably, we were, and remain, preoccupied with the question of leadership within the Region. And talk on the street is all about perception," she said.
The embarrassing incident comes on the heels of Ford's speech to the Economic Club of Canada last week. The mayor was more than an hour late to speak to business leaders after he got stuck in a freight elevator — with no cell phone service — for about 45 minutes.
Of course, this is not the first time Ford has been made to feel unwelcome since the crack video scandal erupted.
"With the media following the Mayor in everything he does, we do not want this distraction to take away from the anticipated fun and enjoyment that children will have on Parade Day," wrote parade co-chair Ron Barbaro in a letter to Ford's chief of staff.
Ford was also asked to skip a Remembrance Day ceremony at the Old City Hall cenotaph, but refused.
Eighty-year-old Tony Smith, who was stationed in Germany after the Second World War, said Ford should have skipped the ceremony.
"I didn't shake his hand because he's a drug addict, a druggie," Smith said. "He's No. 1 man in the city and he's smoking up and boozing it up. I don't mind people having a drink. I certainly don't agree with drugs."
Ford has already filed his papers to run for re-election. Torontonians head to the polls on Oct. 27.
With files from The Canadian Press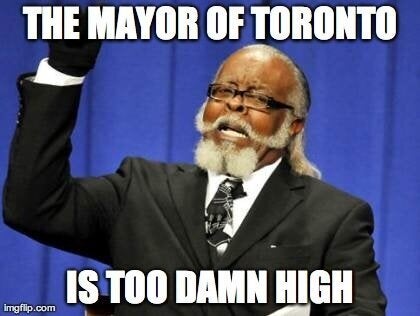 Rob Ford Memes