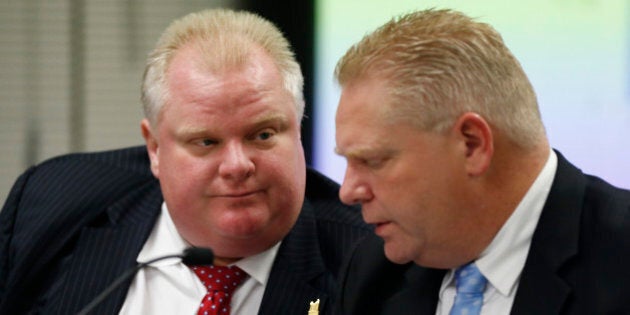 Sometimes it's the little details that reveal so much, especially when they're captured on television.
Former Toronto Councillor Doug Ford made an important appearance at City Hall Friday afternoon. He was there to officially enter the race for Mayor. Why? Because his embattled brother Rob, the current Mayor, suffered a serious setback earlier this week. After privately experiencing persistent abdominal pain for three months, things took a turn for the worst and he was hospitalized. The early diagnosis is a tumour. The official prognosis is expected early next week.
Shortly after Doug left City Hall, the Mayor released a written statement saying that he is physically unable to continue his reelection campaign, a campaign that at one point saw him trailing early frontrunner and former Conservative ally John Tory by more than 10 points in the polls. Doug is replacing him on the ballot. (Friday was the deadline for last-minute election sign-ups and withdrawals.)
In the midst of the circus that surrounded him at City Hall, one cameraman caught a rare moment of vulnerability. Shooting him up close from the left, one drop of sweat slowly trickled down Doug's cheek.
He should be sweating because the Ford Legacy is in serious jeopardy. Scandal-plagued and globally derided, Rob Ford was never guaranteed a second term running Canada's largest city. How could he have possibly won anyway considering all the crack videos, the drunk videos, the racism, the sexism, the drunk driving, the physical assaults, the sexual harassment, the threats of violence, the constant lying, the numerous unexplained absences and multiple political conflicts of interest that have defined him these past two years alone?
With only six weeks to go until Toronto elects its next municipal government, Doug Ford, the obnoxious, ignorant, careless, and deeply polarizing former Councillor with his own conflicts of interest and drug dealing past, is now stepping in to try to rescue his brother's administration. Good luck with that.
Meanwhile, there's the puzzling matter of Rob Ford's political future. He is withdrawing from the race for Mayor but he's not out of the election altogether. Originally, it was his nephew, Michael Ford, who was running to fill his old Councillor seat in Ward 2's Etobicoke North riding. Now that Doug is running for Mayor, Rob is replacing Michael as a Conservative candidate in that race.
An innocent question: if a man is too seriously ill to run for one political office, how is he healthy enough to run for another? Granted, running for Mayor is obviously more physically demanding than vying for a lower profile City Councillor gig, but still, if your stomach pains are so bad to the point where you need constant professional care and lots of rest and relaxation, why are you running for anything?
The likely answer: because there's a good chance he might actually win. For all the city-wide support he's lost in the last year and a half, there are a considerable number of Etobicoke residents who still believe in his now discredited populist "taxpayer protector" rhetoric that got him on City Council in the first place. Rob Ford is counting on that decade-plus connection with those remarkably loyal and forgiving voters to keep him on Council without having to do too much door-to-door campaigning.
Unfortunately, this is a gamble and it depends greatly on next week's test results. If that mass on his abdomen is cancerous (and let's all hope it's not), this sneaky back-up plan to get reelected, this time as a City Councillor, will have to be abandoned. Even if it's like the earlier mass he had in 2009 (which turned out to be benign), he'll still have to have surgery and may need plenty of time to rest and recover. As of this moment, he has few good political options.
CBC News Network's Carole MacNeil asked a number of guests about the possibility of Doug potentially winning the election, Rob winning back his seat, Doug making him the Deputy Mayor and then at some point, stepping aside to let Rob become the Mayor again. Not one thought this was a plausible scenario, not just because of the unlikeliness of both being elected, but because of the absurd idea that the ambitious Doug (who has expressed a desire to lead the Ontario Tories) would ever relinquish power to his younger brother, especially when you consider his many health problems.
Regardless of the end result of Rob Ford's medical situation, whether it's manageable or not (and again let's hope it is a solvable problem), it's the end of a turbulent era in Toronto politics. Doug Ford has an impossible task ahead of himself. He has to run on his brother's highly questionable record as well as his own, somehow make up a lot of ground between himself and John Tory while still watching out for the formidable Olivia Chow, and avoid getting swallowed up by all the growing scandals that have already plagued his entire family, all in just a month and a half.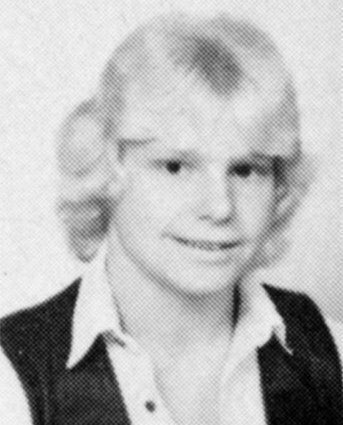 Rob Ford's Brother Doug: What We Know