The embattled leader of Canada's largest city was a guest on The John Oakley Radio Show on Monday, where he again apologized, without specifics, for mistakes he has made in the past.
"I'm only human. There's a lot of perfect people out there, I'm not one of them," he said.
Ford did not say much about the alleged crack video, merely reiterating his desire to see it released. He also dodged a direct question for Oakley as to whether or not he has ever used crack cocaine.
But the mayor seemed to get aggravated when asked whether he was damaging his brother's "brand." Councillor Doug Ford has made no secret of his desire to run for the Ontario Tories in a provincial election.
"Doug will be provincial, he will be premier one day," Ford said. "It has nothing to do with me. And no matter again how the media wants to spin it, Doug is the hardest working, smartest guy. He builds a multi-million dollar company by himself down in Chicago, creating jobs. And it's not daddy. He did it on his own. He got elected on his own."
Ford lauded his brother's intelligence, ambition and ability to give him advice.
"He's ten times smarter than anyone I've ever met," Ford said.
The mayor said he is particularly bothered by those who suggest his older brother is an enabler.
"We love each other, we're best friends but don't put him in the same boat as me," Ford said.
Listen to the full interview:
The patriarch of the Ford family, Doug Ford Sr., was an MPP under the government of Mike Harris.
The Ontario PCs approached Doug Ford about running in 2011, but he chose to stay at City Hall, the National Post reported.
In April, just weeks before news of the video broke, Ontario PC Leader Tim Hudak said he would "love" to welcome Doug Ford to his team.
"We've got a gravy train here under the Liberals that needs to be derailed as well," Hudak told The Toronto Sun.
But the report did seem to cool the enthusiasm of some Ontario Tories regarding Doug Ford.
"He is not our candidate," Conservative House Leader Jim Wilson told reporters at Queen's Park. "I don't even know the guy. Personally, I've never even met him."
Does Doug Ford have a future in provincial politics? Could he one day be premier of Canada's most populous province? Tell us in the comments.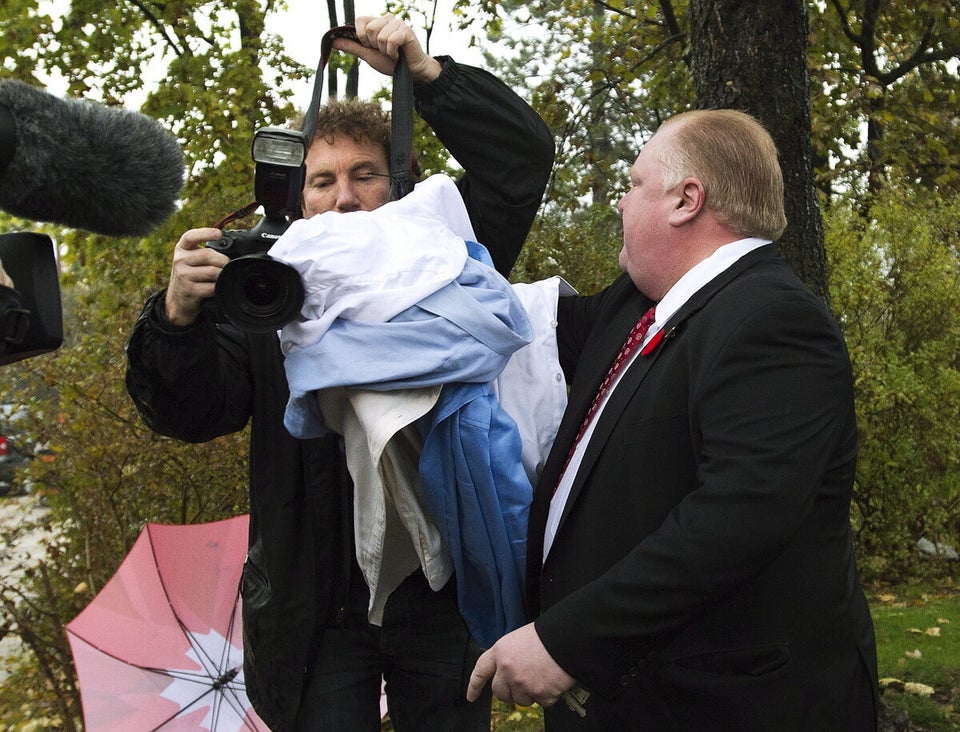 Rob Ford Shoves Photographers