 Less than an hour after Gawker editor John Cook contacted Rob Ford about the crack video, the mayor's staff were "begging" him to stay off talk radio.
That's according to emails released Monday by Toronto's City Hall in response to a freedom of information request.
The document dump includes more than 7,000 pages of emails written by Ford's staff in May and June 2013, just as the crack scandal broke. The Toronto Sun filed the request and City Hall Bureau Chief Don Peat was the first to tweet excerpts. He noted that about 743 pages weren't released due to city rules.
CBC reporter Jamie Strashin also received the documents, and tweeted a photo of the email from Cook to Ford's staff.
"On Tuesday, I viewed a videotape showing Rob Ford smoking crack cocaine," Cook writes.
"I am writing a post for Gawker, to be published tonight, detailing what is on the tape."
Cook sent the email at 7:30 p.m., and the story was posted to Gawker's website at 8:28 p.m. In the intervening hour, Ford's lawyer Dennis Morris gets involved in the email thread (although exactly what he wrote has been redacted). At 8:26 p.m., Ford's then-press secretary writes that he had talked to the mayor.
"I was speaking with him tonight begging him to stay off talk radio. Exhausting," writes George Christopoulos.
Christopoulos quit 12 days after sending that email, and went on to work for a group representing developers in Ontario.
Deputy Mayor Norm Kelly's two-word reaction to the story was more succinct, according to an email shared by Peat.
In November, following months of controversy since the crack scandal broke, Toronto city council voted to strip Ford of many of his mayoral powers. Ford later decried the move, calling it a "coup d'etat."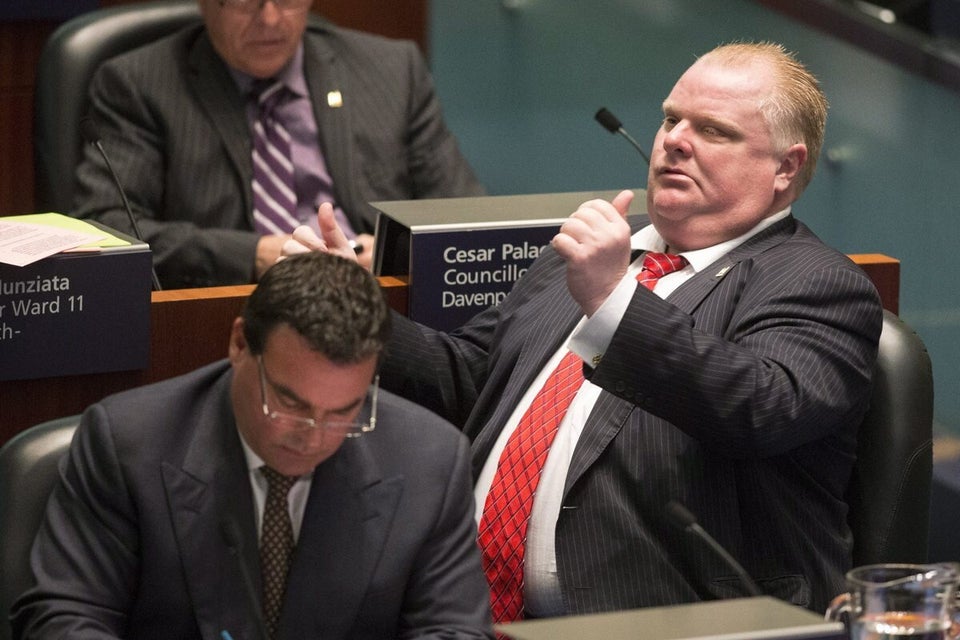 The Many Faces Of Rob Ford