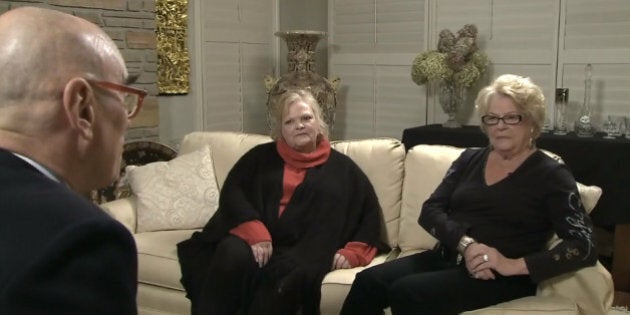 In an extensive interview with CP24's Stephen LeDrew, Diane Ford and Kathy Ford spoke candidly about the challenges facing their son and brother.
Rob Ford's mother, Diane, defended her youngest son, saying that "all the good that he has done been overlooked. It's never been mentioned and it's just so hurtful to the family."
"The pressure that has been put onto him, since Day 1 since he was elected, it is not fair," his mother said.
The two talked about the high-pressure stakes associated with Toronto's top job, blaming critics and media for endlessly hounding the mayor.
"Forgiveness isn't in the eyes of the media right now."
Diane told LeDrew she knows her son has problems, and the family had a serious discussion when they gathered at her home recently.
"I did say 'Rob, you've maybe got to smarten up a little bit, get back online,'" Diane Ford said. "He does have a problem. He has a huge weight problem and he knows that and I think that is the first thing he has to attack because that will change your whole demeanour. Everything else will fall into place because you aren't all the things you're being accused of."
Kathy, a former addict, defended her brother's decision to stay in office amid a growing scandal sparked by a video of the Toronto mayor smoking crack cocaine.
"Robbie is not a drug addict," she said.
"I know because I'm a former addict."
Diane went on to say she believes her son needs to get a driver and a device in his car to prevent him from driving when he's drunk. She also said she believes her son should see a psychologist.
"My heart breaks for my son," said Diane near the end of the interview.
"He does maybe need some help and counselling and I think he will do that. Absolutely he will," she said.
With files from The Canadian Press