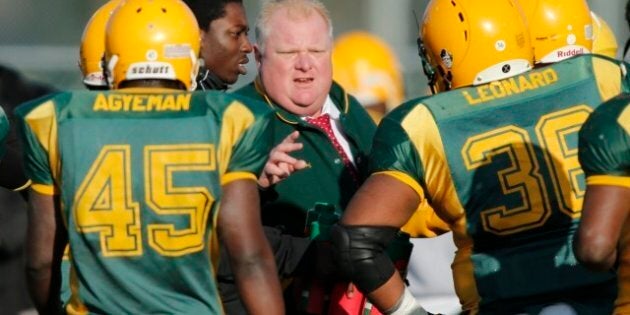 Toronto Mayor Rob Ford has been dismissed as head football coach at Etobicoke's Don Bosco Catholic Secondary School.
Rather, the paper reports, it seems controversial comments Ford made back in March were deemed offside.
Ford angered parents and teachers at the high school and prompted an investigation by the school board after he was accused of saying "disgusting" things about the school to Sun News.
"If it wasn't for this football, these kids just wouldn't go to school," he said. "They have no reason to go to school. You can't tell them to get an education. But I use the football as a carrot. I said: If you don't go to school, and you're [not] passing, you don't play football. Oh, they'll do backflips to play football," Ford said.
Ford also agreed with Menzie's suggestion that many kids would be dead or in jail if not for his efforts to launch a team at the school more than a decade ago.
Bruce Rodrigues, Director of Education with the Toronto Catholic District School Board, released a statement Wednesday afternoon.
"This is an exciting game that helps to develop strategic thinking, strength and agility while also fostering values such as teamwork, perseverance and good sportsmanship. Mr. Ford has helped our students rise to the challenge and realize their potential as both football players and young men," said Rodrigues. "This decision was based on what is best for our students, our school and the Don Bosco community."
Ford's passion for football has gotten him in hot water in the past.
See the reaction to Ford's dismissal from his beloved team in the gallery below.