The family of former Toronto mayor Rob Ford said that when they initially offered to pay for his funeral, they were told the cost would be minimal.
But when the Ford family got the final bill from the city on Monday, the total was reportedly close to $19,000.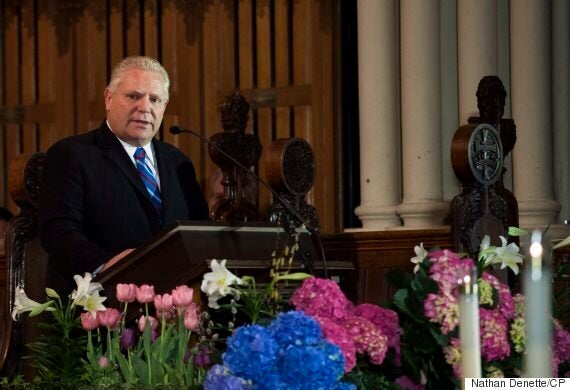 Doug Ford speaks at former Toronto mayor Rob Ford's funeral in Toronto on Wednesday. (Photo: Nathan Denette/Canadian Press)
Dan Jacobs, Rob Ford's former chief of staff, said the family has requested line-by-line accounting of how the money was spent, according to CBC News.
Jacobs tweeted a Ford family statement on the matter Monday that said the family has always fully intended to reimburse the City of Toronto, but were told this amount would be less than $1,000, "which is well under what we are now told the final tally is."
"We still fully intend to reimburse the City, and are now simply waiting to be given a strict accounting of all the costs incurred," the statement reads.
But Jackie DeSouza, a spokesperson for the city, told the Toronto Star on Monday that there was no prior discussion with Ford's family about memorial costs.
Costs for overtime, security
She also told CP24 the costs included $11,539 for security, $4,441 in overtime for staff from the city clerk's office and facilities management, $1,226 for refreshments, and $1,500 for an honour guard.
City Hall is normally closed on Easter Monday, and was opened specifically for Ford's public visitation March 28.
"The city's intention was to host a dignified and professional visitation for Councillor Ford in keeping with the family's expectations as well as to absorb any associated costs within existing budgets."
Doug Ford tweeted a statement expressing "everlasting thanks" for his brother's funeral and memorial.
"Our family cannot even begin to imagine all the hard work and extra effort that went into putting together an event of this magnitude on such short notice, befitting a former Mayor of Toronto," the statement said.
"Our family has always intended to pay the full cost of the funeral and memorial, and we know it's what Rob would have wanted as well."