Toronto Mayor Rob Ford, who just days ago admitted to drinking and driving, mocked a fellow councillor at City Hall on Monday for also consuming alcohol and driving.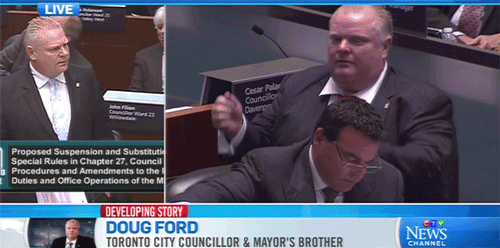 Ainslie told The Toronto Star he consumed two or three glasses of wine at dinner, thought he was fine to drive and was ultimately given a warning and not charged.
The mockery occurred while Councillor Doug Ford was speaking during a special council meeting in which more of Rob Ford's powers may be stripped, essentially making him mayor in name only.
"Councillor Ainslie, you've got your own issues," Doug Ford said at one point.
And that's when Rob Ford started making the gestures captured above.
Last Thursday, the mayor responded to allegations from former staffers in court documents that he has driven after consuming alcohol on more than one occasion.
"I might have had some drinks and driven," he told reporters.
Ford's confession drew an admonishment from the Canadian branch of Mothers Against Drunk Driving.
"Driving under the influence of alcohol is inexcusable behaviour for any invididual, let alone an elected official who is held to a higher standard and expected to set an example for the community and constituents," the group said in a statement.