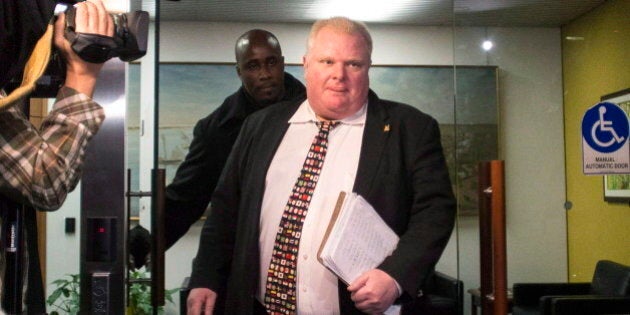 Toronto Mayor Rob Ford is alleged to have been a frequent user of crack, marijuana and heroin according to explosive court documents released Wednesday.
Ford has admitted publicly to smoking crack cocaine but said it only happened once, about a year ago.
The accusations are contained in an unredacted version of an Information to Obtain (ITO) in the drug-trafficking investigation of Ford's sometimes driver and friend Alexander Lisi.
According to the ITO, Ford may have used heavy drugs hours before attending a community cleanup event in Etobicoke on April 20.
Cops intercepted a phone call around 1 a.m. that day in which an alleged gang member was told he needed to go to 15 Windsor Dr., a suspected crack house, because Ford "wants some drugs."
Just hours later, alleged cocaine trafficker Abdullahi Harun was heard on police wiretaps saying he had "so much pictures of Rob Ford" doing drugs, specifically "dugga," which cops believe is marijuana, and "hezza," a slang term for heroin.
The wiretap caught another conversation that morning in which a man at the house said the mayor was "smoking his rocks today."
"Yes, I have smoked crack cocaine. But do I? Am I an addict? No," he said. "Have I tried it? Probably in one of my drunken stupors, probably approximately about a year ago."
But the mayor denies he has a drug or alcohol problem.
Though he was stripped of most of his powers just weeks after his confession, Ford vows he will run again in 2014.
None of the allegations have been proven in court.