Transit plans in Toronto have become so complex that few citizens understand what's going on anymore. But, what about the mayor?
Matlow aggressively raised doubts about whether the mayor understood the now defunct plan to build an LRT.
At one point, Ford said that St. Clair Ave. has an LRT when it actually has a streetcar line. The plan for the Scarborough LRT called for a line that would have mostly avoided existing roadways.
Ford has consistently argued that an LRT would dig up roadways and cause traffic chaos.
The mayor has long backed plans to expand Toronto's transit network with more subways, an idea that was a key plank in his 2010 campaign platform.
Deputy speaker John Parker repeatedly asked Matlow to calm down and be civil. For his part, Ford sarcastically told Matlow: "I wish I was as smart as you."
Miller's plan called for seven new LRT lines (among many other improvements and expansions), all but three of which are now defunct.
The plan to extend the Bloor-Danforth line into Scarborough, which council approved Wednesday, remains contingent on nailing down funding from the provincial and federal governments. Ford has said he'll need the $1.8 billion the province had pledged to replacing the RT line with an LRT as well as an addition $1 billion from the feds in order to pay for the subway extension.
Ford surprised many last week when he agreed to a "modest'' tax increase to fund the subway project -- which Ontario Premier Kathleen Wynne took as a sign that he may be open to new levies to pay for other transit projects.
"The principle of needing to have a new revenue stream to build transit .. there seems to be more agreement on that principle now, and from my perspective, that's a very good thing,'' she said Monday.
But the mayor quickly quashed any hope that he'd had a change of heart, saying he's still "totally opposed'' to any new fees.
Ford has said federal Finance Minister Jim Flaherty is "on board,'' with providing infrastructure money for the subway.
"They haven't given me an exact dollar value, but they said they're at the table with us. They agree with our subway proposal if it gets through council," Ford said.
With files from The Canadian Press
CORRECTION: A previous version of this story said councillor Matlow referred to Ford as "your worship" out of frustration. The use of "your worship" to address the mayor is actually a part of city council protocol.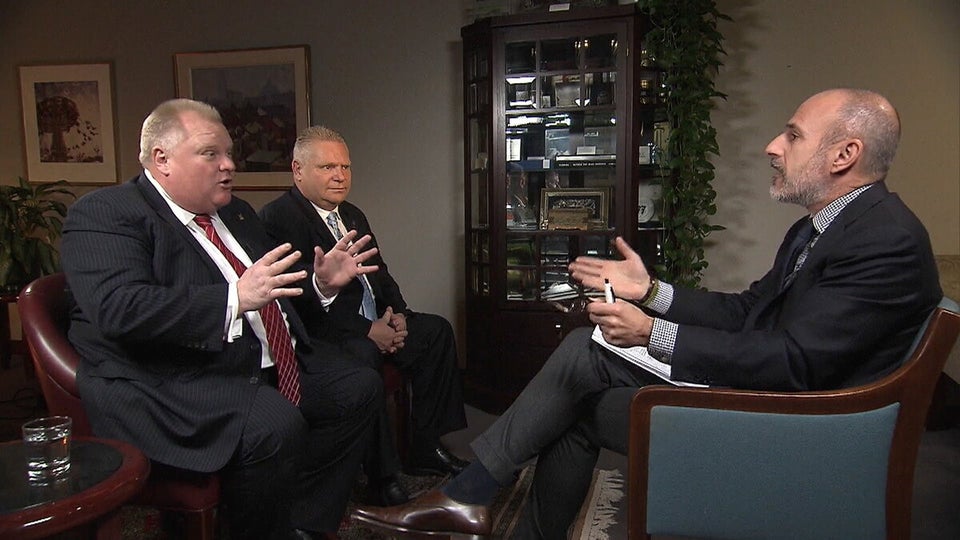 Best Photos From Rob Ford Crack Scandal
Popular in the Community