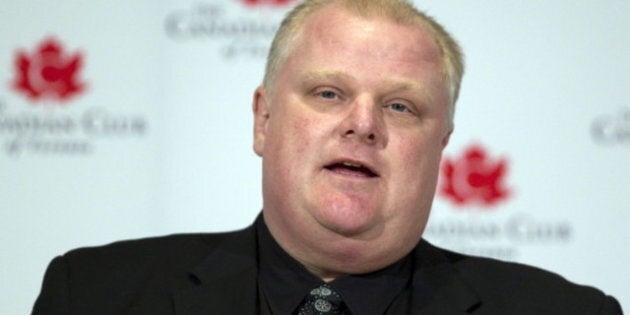 UPDATE:Toronto's mayor says he's been threatened but is letting the police deal with it.
Rob Ford made the comments today at a news conference during a break from an executive committee meeting on budget cuts.
Ford says he received a threat and that it's under police investigation but added he doesn't take it very seriously.
He said he received the alleged threat "a couple of weeks ago" and didn't think it was related to proposed budget cuts.
Ford didn't want to go into details about the threat but said it was a message that was left.
Rob Ford may not be royalty, but when he took his seat at the head of Toronto City Hall Thursday, the mayor held court in one of the most well attended -- and controversial -- public meetings in recent memory.
With everything from libraries to police services on the chopping block in the city's bid to tackle a projected $774-million budgetary deficit, the mayor opened the floor to residents, encouraging all Torontonians to voice their concerns before the axe falls.
It's a process he acknowledges could be a lengthy one.
"Everyone has five minutes to talk to me personally at our executive meeting," he told CP24. "I invite the whole city. I don't care if we have to sit here for three days."
One report suggested that 302 citizens have registered to speak. At the rate of five minutes per person, that would be more than 25 hours.
But while Ford's tactics may be somewhat (ahem) unique, his plight is anything but.
"All cities in Canada are facing financial problems, because of the economy because of the downloading of services [from the provinces], and because of the need to be competitive internationally," Enid Slack, director of the University of Toronto's Institute on Municipal Finance and Governance, told HuffPost Canada. "Large cities in general face a lot of demands to provide services and infrastructure, and they have limited resources to do that, so they are under pressure."
We followed the proceedings at city hall.