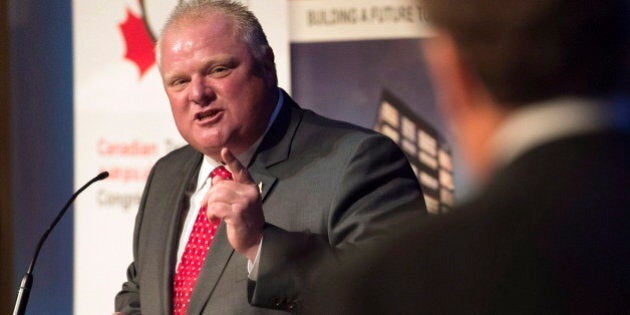 A new poll suggests that just weeks after his return from rehab, Rob Ford is tied with Olivia Chow and John Tory for the lead in the Toronto mayoral race.
The survey from Forum Research, released Wednesday, showed Chow at 29 per cent support, Tory at 28 per cent and Ford at 27 per cent — a statistical dead-heat. Karen Stintz sat well back at six per cent, David Soknacki had five per cent support, and four per cent were undecided.
Yet, the results shifted when Stintz and Soknacki were removed from the equation. When just the main contenders were tested, Chow led at 35 per cent, with Tory at 32 per cent and Ford at 27 per cent.
Tory boasted the highest approval ratings with the support of 67 per cent of respondents, followed by Chow at 54 per cent. Ford had the lowest approval rating of the five candidates polled at just 33 per cent.
"It appears that Rob Ford is not going away anytime soon, but neither has he been able to maintain his pre-rehab levels of popularity, even among the demographic groups we know are sympathetic to him," said Forum president Dr. Lorne Bozinoff in a press release.
Bozinoff also said in the release that while Tory is now in the "front ranks," the advantage still belongs to Chow.
The poll results also offer some interesting insights into the type of voter supporting each candidate.
According to Forum's research, the average Ford supporter is younger, lives in Scarborough or Etobicoke/York, has a lower income and typically votes for the Ontario Progressive Conservatives. A typical Chow voter is also younger and has a lower income, but lives downtown and supports the provincial NDP. Tory voters are wealthier, older, live in Etobicoke/York or North York and vote for the Ontario Liberals — something of an ironic twist considering Tory was once leader of the Ontario PCs.
The poll surveyed 1,063 Torontonians on Monday and has a margin of error of plus or minus three percentage points, 19 times out of 20.
A survey conducted earlier this month by Nanos Research had Ford well back in the race at just less than 22 per cent support, with Tory in the lead at 39 per cent and Chow just shy of 33 per cent.
Tory strategist Nick Kouvalis told The Toronto Star at the time those numbers pointed to a two-horse race.
"Ford's done. It's Chow versus Tory," he said.
The polling numbers may give Ford a boost as he prepares for his annual "Ford Fest" barbecue on Friday.
Ford has been given the approval to hold the event at a park in Scarborough, despite complaints from both Chow and Tory that it violates municipal election rules forbidding campaign events in a city park.
Toronto voters head to the polls on Oct. 27.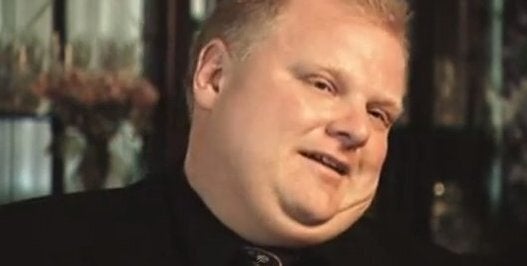 Why People Think Rob Ford's Homophobic