In just the latest example of how strange — and sad — the Rob Ford saga has become, the embattled Toronto mayor has now suggested a top Canadian journalist is a pedophile.
Ford sat down last week with former media baron Conrad Black for an interview which aired Monday night on Vision TV. The mayor blamed much of his current problems on Toronto Police Chief Bill Blair, whom he said has held a grudge over Ford's desire to find "efficiencies" and cut costs.
UPDATE: At a press conference on Tuesday afternoon, Ford did not back down from his insinuation against Dale. "I stand by every word I said with Mr. Black in my interview," he said.
But the mayor also took an utterly outrageous shot at Toronto Star reporter Daniel Dale, a National Newspaper Award winner.
Ford and Dale had a bizarre confrontation back in May 2012 in which the mayor called the cops on the reporter, alleging Dale was spying on him at his Etobicoke home.
The reporter maintained he was on public property doing research for a story about Ford's application to buy a piece of land owned by the Toronto and Region Conservation authority, located near the mayor's house.
Dale said he took a few photos of Ford's house with his BlackBerry, from a distance, but did not, as the mayor alleged, stand on cinder blocks to peer over Ford's fence.
In a recap of the incident for The Star, Dale alleged the mayor physically threatened him, a claim Ford denied.
"I stood on nothing but grass. I never touched or leaned over the fence or made an attempt to look at his house. I filmed no videos and snapped three or fewer photos — from a significant distance away from the fence. I had no interest in photographing Ford's family," Dale wrote.
But the version of events Ford shared on TV was quite different — and darker.
Black asked the mayor about the most "offensive events" that have been "perpetrated" on him or his family by the media. Ford didn't hesitate to bring up the Dale incident.
"I have little kids. When a guy's taking pictures of little kids, I don't want to say that word, but you starting thinking you know, what's this guy all about," Ford said. "And I just lost it."
Many took to Twitter Monday night urging Dale to sue the mayor. Star reporter Robyn Doolittle tweeted that lawyers were "involved."
Dale also tweeted after the show, thanking followers for their support.
The journalist denounced Ford's remarks in an interview on Tuesday.
"It's amazing. I don't know what to say about it,'' Dale said.
"In the calmest terms possible, it is unpleasant when the mayor of the biggest city in Canada essentially accuses you, or suggests, you are a pedophile."
Dale said the newspaper's lawyers were pondering next steps.
Star editor Michael Cooke told The Canadian Press in an email following the program that this is the latest outrageous statement made by Ford.
"Just when you think Mayor Ford has said the most stupid thing, such as letting the whole world know about his sex life at home, he tops himself with another outrage," wrote Cooke.
"Mr. Ford calling reporter Daniel Dale a pedophile tells you all you need to know about our mayor's brain."
In a scathing column published Tuesday morning, the Globe and Mail's Marcus Gee wrote that Ford's insinuation proves there are no lines he won't cross. And Gee also called out Black for letting the line pass without any kind of challenge.
"The mayor said he doesn't like it when his critics 'get personal,' presumably about his drug use, deceptions and other misbehaviour," Gee wrote. "He showed no such scruples when he got personal about Mr. Dale and jeopardized a young man's good name."
On Tuesday, Deputy Mayor Norm Kelly told reporters that Ford's remark was almost "beyond comment."
"Again, it fits into a pattern that changes the focus from himself to someone else," said Kelly. "In this instance, it goes beyond the pale and I think there should be an apology for that."
With files from The Canadian Press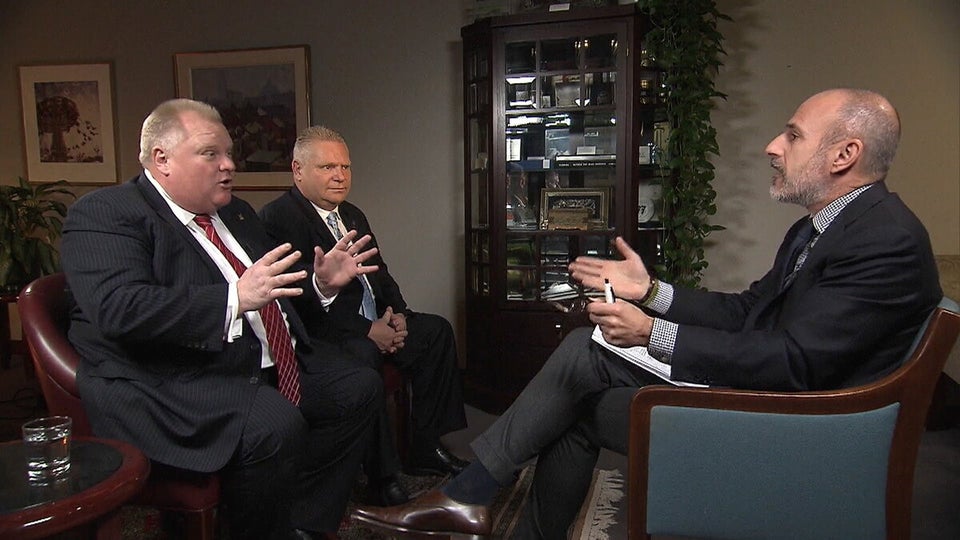 Best Photos From Rob Ford Crack Scandal