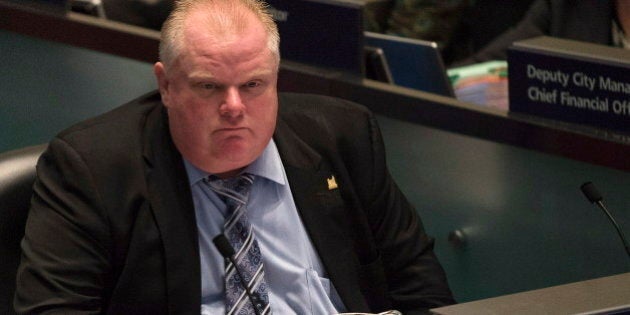 Embattled Toronto Mayor Rob Ford faces new allegations of alcohol abuse, drugs and a potential sex worker partying in his City Hall office.
QMI Agency's Michele Mandel reported the bombshell information Wednesday after an Ontario judge ordered the release of unredacted versions of court documents concerning the mayor and Alexander Lisi, his friend and occasional driver.
Mandel reports the information includes interviews with members of Ford's inner circle and former staffers, including his ex-chief of staff Mark Towhey.
The most salacious part of the report surrounds the evening of March 17, 2012.
Mandel writes that a former Ford staffer told police he arrived at City Hall on St. Patrick's Day at around 9 p.m. and found the mayor intoxicated in his office with several people, including a woman he believed may be a prostitute.
A waiter at the Toronto bar Bier Market also told investigators he thought he saw Ford snort cocaine later that evening.
CBC News, which also received a summary prepared by its lawyer, reported a Ford staffer told cops he saw the mayor take OxyContin, a prescription painkiller, that evening as well.
Both reports detail stories of the mayor abusing alcohol and asking staffers to buy him booze.
According to the QMI report, former staffers also expressed concern to the police about the mayor drinking and driving on more than one occasion.
None of the allegations have been proven in court.
Ford faced a grilling from city councillors Wednesday about his personal problems.
Councillors voted overwhelmingly, 37-5, on a non-binding motion calling on Ford to take a leave of absence. Council has no power to remove the mayor so the motion was largely symbolic.
Popular in the Community