The mayor read an email from "Mary from Scarborough," a mother of a gay son who said Rob Ford's position hurts her deeply. But, much like a few weeks ago, the mayor was unrepentant.
"This is about the Olympics, this is about supporting our athletes," he said in the clip. "This is not about your sexual preference."
The Pride flag was raised on a pole outside City Hall often used to recognize many different events and groups in Canada's biggest city. A City of Toronto flag typically flies in that spot.
The rainbow flag has been raised at municipal buildings and provincial legislatures across Canada in an act of solidarity for gay athletes in Sochi and those fighting for LGBT rights in the face of Russia's oppressive, anti-gay laws.
But the symbolism has apparently been lost on Rob Ford.
"There's no reason, no reason that I see that we should be putting up the Pride flag during the Olympics. This is about being patriotic to our country," he said. "I am not homophobic. I'll go to anyone's house, anyone's place to help them out. I take offence when people say that to me. This is Canada. Our Canadian flag should be up there, not the Pride flag."
The mayor and his brother, Councillor Doug Ford, also spoke about Rob Ford's recent admission that he skips Toronto's Pride parade out of personal preference. In past years, the mayor hasn't shown up to the summer event because he said it conflicted with an annual trip to his family's cottage.
But Doug Ford says that's no reason to assume his brother hates gay people.
"Do you know how many gay friends that we have?" Doug Ford asked in the clip. "You may want to bully us into things but….that's how I feel sometimes."
The councillor added he has gone to the parade with his kids and even donated money to the event, but feels nobody should put a "gun to anyone's head" to attend.
"There's a tremendous amount of people that respect the gay community but just aren't in to going down to the Pride parade," Doug Ford said. "It's as simple as that."
In another clip, Rob and Doug rhyme off a list of councillors they would like to see defeated in the next municipal election, including Gord Perks, Janet Davis, Adam Vaughan, John Mihevc, Sarah Doucette, Shelley Carroll, Glenn De Baeremaeker, Mike Layton, Kristyn Wong-Tam, Paul Ainslie, Josh Matlow and Mary-Margaret McMahon.
"All they do is tax and spend and increase taxes," Rob Ford said.
But Councillor Josh Matlow may have had the last laugh on Twitter.
Well, at least it's not a police "person of interest" list. That would be really bad.

— Josh Matlow (@JoshMatlow) February 18, 2014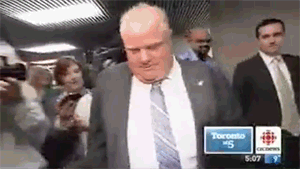 Best Rob Ford GIFs