On Monday, Rob Ford returned to Toronto City Hall for the first time since he went on a temporary leave of absence to seek help for substance abuse two months ago.
In an emotion address to select media, Ford apologized to the city's taxpayers, his colleagues and family for what he called "some of the darkest moments in [his] life."
Ford was also very gracious of the staff at GreenStone, the rehab facility he sought treatment at, praising them for their support.
The mayor then shifted to campaign mode: pushing away from the mea culpa tone in the first half of his speech to one of political boosterism. Ford wrapped up his speech talking about garbage contracts, subways, and his crusade against the "gravy train."
"I look forward to serving you for many, many more years," he said.
Read Ford's speech in full below:
I stand before you today having completed two months of intensive rehab therapy at GreenStone Residential Treatment Facility.
For a long, long time I resisted the idea of getting help. Like a lot of people dealing with substance abuse, I was in complete denial. I had convinced myself that I did not have a problem, but it soon became obvious that my alcohol and drug use was having a serious, serious impact on my family and on my health.
And on my job as mayor, after experiencing some of the darkest moments in my life I decided that enough was enough. I had become my own worst enemy.
I knew, I knew it was time to take action. It was time to get help. Professional help.
This is a decision that will change my life forever. At GreenStone, I worked with a professional team of dedicated doctors, nurses, counsellors, and the best trainer any one could ask for. I underwent hundreds of hours of intensive therapy.
I now know, I now know the staff at GreenStone saved my life.
They forced me to confront my personal demons.
I learned about things like triggers and what happens when you have uncontrollable cravings. I leaned that my addiction is really a disease, a chronic medial disease that will require treatment for the rest of my life. I also learned that I'm not alone fighting this chronical, medical condition. I personally saw that this disease touches many lives. It affects people from all walks of life. And we all know someone who has suffered from this terrible disease.
At GreenStone, I met others. I met others who, like me, who have struggled with the impacts of their substance abuse for years. Listening to their stories gave me the strength and helped me deal with my own mistakes. Thanks to my treatment. Thanks to my treatment, I can proudly say today that I have begun the process of taking control of my life.
So folks, this is a long, long road to recovery. No matter what I do, no matter what I do, I will never be able to change the mistakes that I have made in the past.
When I looked back at some of the things I have said and some of the things I did when I was using. I am ashamed, embarrassed, and humiliated. I was wrong, but have no one, no one to blame but myself. I want to sincerely, sincerely apologize not only to the people of Toronto but to every single person who was hurt by my word and my actions.
It was never, never my intention to embarrass the city or to offend my fellow members of council.
I deeply, deeply regret some of the personal choices I made in the past. I now realize that I was blind to the dangers of some of the company I kept. And those associations have ended. My commitment to living clean is now unwavering.
To the people of this great city, I want to offer a public apology. I used poor judgement and take full responsibility for my actions.
At GreenStone, I accepted in my higher position I am held to a higher standard. To my family, and to all of those who stood by me during these extremely difficult times, I want to thank you for giving me another change. To my fellow councillors, and especially to Karen Stintz, for my hurtful and degrading remarks I offer a deep-felt apology for my behaviour.
To the media, I want to thank you. I want to thank the media for giving me and the residents at GreenStone the privacy we needed. But I am not – I am not asking you for forgiveness.
I accept full responsibility for what I have done. Thankfully, thankfully we live in a civilized society, a society that realizes that people do make mistakes. And that some people need help. And those who seek that help can be given another chance.
Substance abuse is a very, very difficult thing to overcome. But I will keep, I will keep battling this disease for the rest of my life. I will continue to receive ongoing treatment for my substance abuse problem. I am determined. I am absolutely determined to make myself the best person I can be for my family, for the people of Toronto. And with your support, and with your support, I'm also resolved to continue to work harder than ever for the taxpayers of this great city. While I know is just the beginning of my personal journey – and friends, it is a long journey – my resolve as your mayor has not changed.
We have accomplished a lot together.
When I was first elected in 2010, I promised to stop the gravy train. And that's exactly what I have done. We've moved away from the tax and spend ways from the past and changed the culture at city hall. We have reduced the size and cost of government and we have saved taxpayers hundreds of millions of dollars. We made the TTC an essential service. And we have contracted out garbage saving you $80 million while improving service delivers. I am keeping the City of Toronto accountable to you: the hard working, everyday taxpayer.
Many said I could not work with the unions. Well, folks, I proved them from by achieving historic labour deals. Deals that are fair to the taxpayer and fair to our front line workers. And most importantly, we brought all three levels of government together to build a subway for the fantastic people of Scarborough. We have come a long way. We have come a long way despite my personal struggles. And I'm extremely proud of my public record. Toronto's economy is booming. We are creating jobs ... and building our city … we have a beautiful, clean, safe city that is one of the greatest places in the world to live and do business. But there is still much, much more to accomplish.
I plan to continue fighting for the taxpayers of Toronto every, single day. But over, the comings months, over the coming months, friends, my top priority will be rebuilding trust, trust with the public and my fellow members of council.
Again, again, I want to thank – sincerely thank the amazing staff at GreenStone for giving me the power to change my life. And I want to thank the people of Toronto for their understanding and the continued support during this very, very difficult time.
I look forward to serving you for many, many more years.
Thank you very, very much.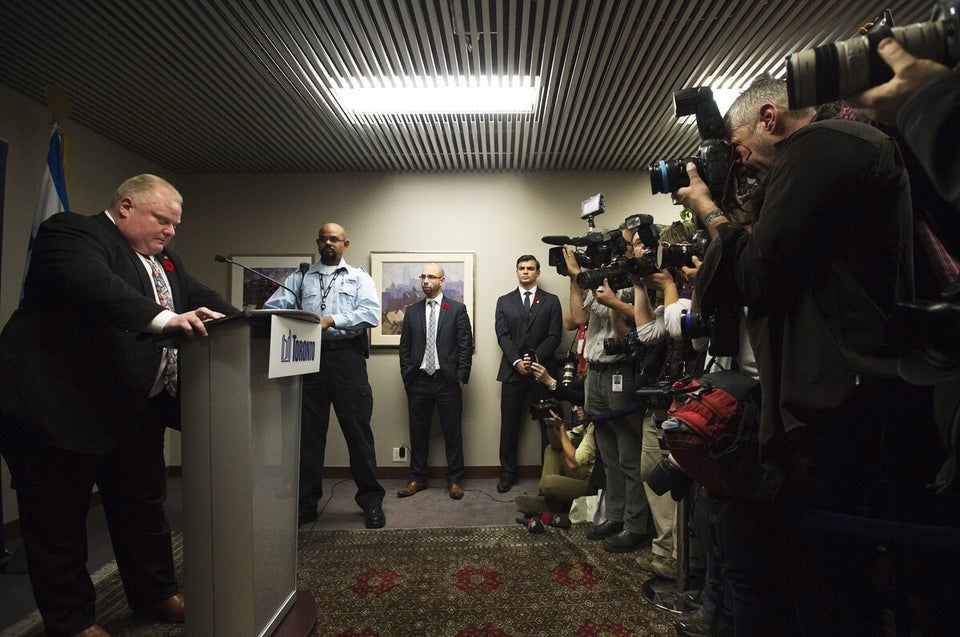 Rob Ford Quotes