And now Toronto's controversial mayor says he looks forward to serving Canada's largest city for "many, many years."
Ford returned to City Hall Monday after a two-month stint at GreeneStone rehab facility in Muskoka.
The mayor, looking slimmer, told reporters at an invitation-only press conference (where questions weren't permitted) that he underwent hundreds of hours of "intensive" therapy during his leave of absence.
For the first time, Ford acknowledged that he is addicted to not only alcohol but drugs.
"For a long, long time I resisted the idea of getting help. Like a lot of people dealing with substance abuse, I was in complete denial," he said. "I had convinced myself that I did not have a problem, but it soon became obvious that my alcohol and drug use was having a serious, serious impact on my family and on my health."
Ford also apologized to Coun. Karen Stintz for the crude remarks he was caught on tape making about her in late April. He did not, however, apologize for other racist, sexist or homophobic remarks attributed to him.
Here are the highlights from Ford's speech.
"I now know the staff at GreeneStone saved my life. They forced me to confront my personal demons.
"I learned about things like triggers and what happens when you have uncontrollable cravings. I learned that my addiction is really a disease, a chronic medical disease that will require treatment for the rest of my life."
Ford added that he learned at the facility that, as mayor, he is "held to a higher standard."
"This is a long, long road to recovery. And no matter what I do, no matter what I do, I will never be able to change the mistakes I've made in the past.
"When I look back on some of the things I've said and some of the things I did when I was using, I am ashamed, embarrassed and humiliated. I was wrong and I have no one, but no one to blame but myself."
On how he embarrassed Torontonians…
"I want to sincerely, sincerely apologize not only to the people of Toronto but to every single person who was hurt by my words and my actions.
"It was never, never my intention to embarrass the city or to offend my fellow members of council."
"I now realize that I was blind to the dangers of some of the company I kept. And those associations have ended. My commitment to living clean is now unwavering."
On those crude Stintz remarks…
"To my fellow councillors, and especially to Karen Stintz, for my hurtful and degrading remarks, I offer a deep-felt apology for my behaviour."
On why he's thankful for the media…
"To the media, I want to thank you. I want to thank the media for giving me and the residents at GreeneStone the privacy we needed. But I am not — I am not asking you for forgiveness.
"I accept full responsibility for what I have done. Thankfully, thankfully we live in a civilized society, a society that realizes that people do make mistakes. And that some people need help. And those who seek that help can be given another chance."
On the future of his mayoralty (and re-election campaign)…
"I plan to continue fighting for the taxpayers of Toronto every, single day. But over the coming months, over the coming months, friends, my top priority will be rebuilding trust, trust with the public and my fellow members of council.
"I want to thank the people of Toronto for their understanding and the continued support during this very, very difficult time. I look forward to serving you for many, many more years."
Toronto voters head to the polls on October 27.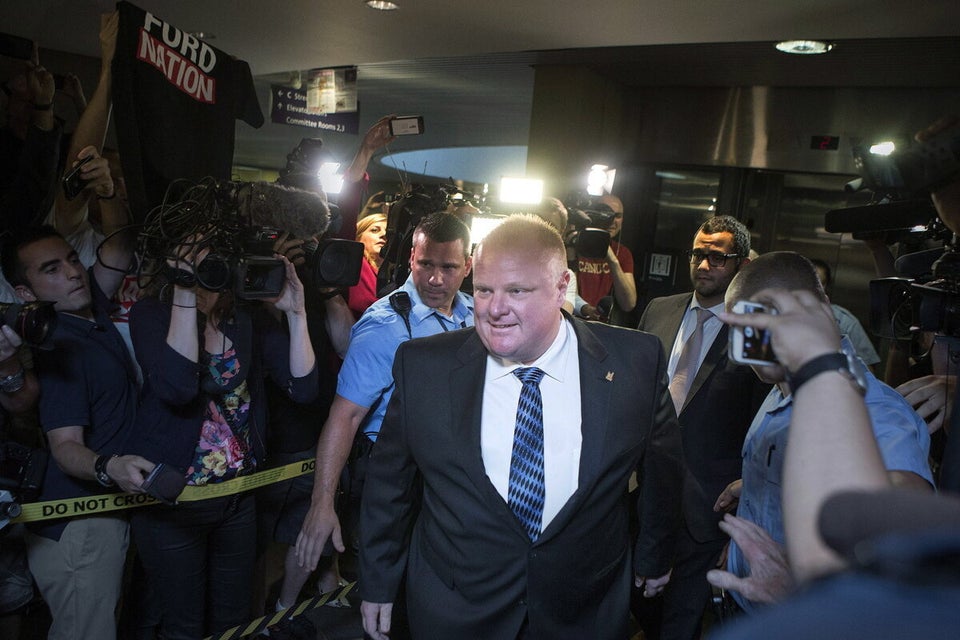 Rob Ford Returns From Rehab