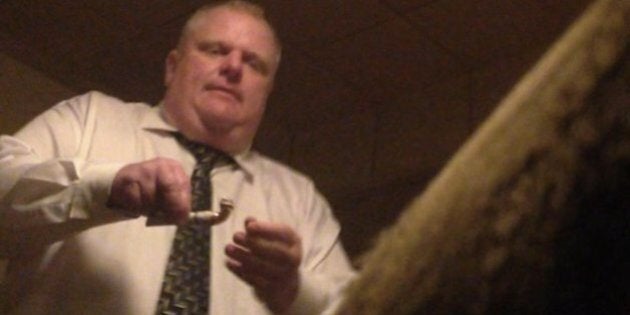 Mayor Ford has finally allowed himself, in his own words, to be "vulnerable" and seek help for his substance abuse problems. He is taking a leave of absence from the mayoralty, announcing his departure just hours after a new wave of what I will euphemistically call indiscretions.
I don't like Ford. I didn't vote for him. Politically, he and I are at opposite ends of the spectrum. He has shown misogynistic, racist and homophobic streaks. I'll admit he's followed through on some major campaign promises. A lot of people like his regular-folk demeanour and manner of speaking, but I cringe at his delivery. I hope he doesn't get re-elected.
But the man is, by all accounts, an addict. He deserves some privacy, and some decent human compassion for what he, and his family, are suffering. For well over a year, the traditional media and social media have had him directly in the cross-hairs, making explicit fun of his transgressions. Yet in the same articles and blog posts, we all recognized he was a troubled man with mental heath issues. But there has been a major failure for us to connect the addiction to the behaviour, and an abject absence of understanding of what Ford is dealing with.
Yes, he should have taken the obvious road some time ago. But isn't that exactly the modus operandi of an addict? Refusing help, soldiering on, falling off the wagon, pressing on again, apologizing, trying to maintain dignity in the face of everything? Ford already seemed to consider himself an outsider, and the more he stuck out, the more the world gleefully reinforced his isolation. Practically his entire inner circle abandoned him, unable to control him or get him to seek help. So he became yet more of an island, regressing in ever more embarrassing ways, all out in public for us to cackle over.
We've all had our inner demons, but we almost never have to deal with them in such a public way, decried on all sides, while yet genuinely trying to run a world-class city to the best of our abilities. Addicts don't have an easy road to travel, yet we continue to treat them using pejoratives (a glance at today's headlines purport that Ford is a "rogue" and "unfit for office"). We taunt them as if their disease is shameful. No one wants to admit to addiction and to have need for help. Who can blame Ford, when he knew all too well the vitriol that would follow him for deciding to admit his struggle, even though the world has been calling for exactly that for a year?
It's shameful. Though Ford has behaved disgracefully, he is not a disgrace, as David Soknacki, a rival for the mayoralty in October, stated immediately after Ford announced his leave. Soknacki and others should have shown more collegiality, and human support and compassion. Why not just congratulate him on making a good decision and wish him the best? Taking the moral, kind road would not hurt us, and probably mean the world to Ford.
And let's not forget there is a silent world of other addicts who are watching our treatment of Ford, and internalizing the world's vilification of not just his actions, but his addiction.
In 2000, Eric Lamaze, a Canadian equestrian, tested positive for banned substances. Not for the first time. He was banned from competition (later overturned), but Spruce Meadows, a world class equestrian facility in Calgary, and the cradle of international showjumping in Canada, chose to ban him from ever competing there again. Spruce Meadows chose a knee-jerk reaction, one all too familiar to addicts.
The board of the facility could have gone the other way, supporting the COC decision, but offering support and a spiritual home to Lamaze in his ongoing recovery. Spruce Meadows rejected a young and troubled individual, and cast his addiction issues with moralistic aspersion. But I knew that action would come back to bite them hard. And Lamaze fought back, recovered, and ended up winning a gold medal in the individual event in the London Games, and leading his team to a silver medal. Lamaze, like Ford, was an outsider, though their separateness was born of different situations. They're scrappers and fighters. Lamaze became a hero, and had the incredible decency to simply accept his success, without ever raising his middle finger to Spruce Meadows for its insult. The addict triumphed.
Much has already been written about whether or not Ford will come back. Maybe he will. I hope, on a purely political basis, this is the last we'll see of him. But as a personal wish, I hope Ford recovers his health, apologizes for the hurt at his hands, and shows the world what happens when cruel sport is made of simple human failings.
Popular in the Community