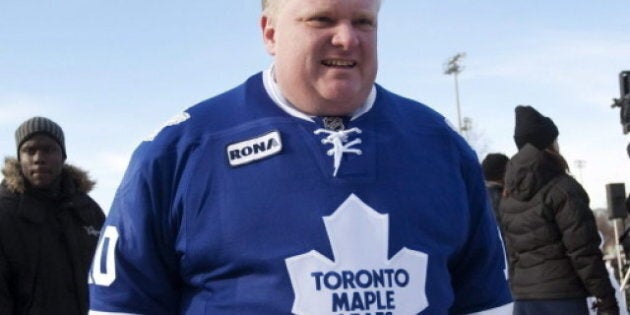 Running through the public and media discourse during and immediately after the 'historic Toronto council sleepover,' as it will be etched forever in city lore, were two dominant threads that reinforced each other while speaking to separate issues.
The first: elections matter.
The second: you get what you pay for.
Mayor Rob Ford's challenge to Torontonians to put their money where their mouth was and come down to city hall to make a deputation at 4:00 a.m. (if need be) seems to have struck a chord with the average Torontonian. They came in waves to announce overwhelmingly that city services should not be cut, and that, in fact, those services were how a vast majority of Toronto residents define their city. That to reduce services would be diminishing Toronto.
After the historic 23 hour and 45 minute-long executive committee marathon concluded, the dust settled, city hall watchers new and old alike emerged from the fluorescent glow of city hall's lights and sat down to a harsh morning sun to await the outcome of their efforts.
And they must, in a way, have been as confused as when they began.
Judging not only from the official outcome (that all proposed service cuts would stay on the table until a further executive committee meeting would be called in September, public be damned!) but the public and media reaction, citizens who voted both for and against Rob Ford seemed to have awoken to the reality of what a Ford administration looks like.
In a word, stubborn. Painfully, so. "The Ford administration will not be guided by reason, evidence, or expertise," Hamutal Dotan argued in Torontoist. "Ford, as he has told us many times, listens to the voters. Or, at least, he listens to the voters in his head. What he has not shown, at any point in time, is any willingness to listen to careful analysis on any subject."
Some emerged from the meeting frustrated that seemingly, very little had changed. Others stumbled out of city hall to think through and write down what they had witnessed, the gravity of the situation only starting to come into focus. Edward Keenan at The Grid wrote an amazing piece on his love of "the smell of democracy in the morning," almost thanking Ford for giving those is disparate opposition to him a chance to finally come together under a common banner.
"These people," Keenan writes, "who cared so much about whatever it is they came to speak about that they were willing to sacrifice a day's work and a night's sleep to say it, found at city hall an army of fellow citizens just as concerned and perplexed and suddenly motivated as they were."
And while Keenan's optimism was not lonely, it was not as prevalent as the criticism. Just ask David Olive at the Toronto Star. Two days before the historic sleepover, Olive opined a fantastic piece that garnered much attention for his insinuation that Rob and Doug Ford share one brain, which was a chicken's brain, to boot. You can almost sense throughout the article that Olive wants to feel sympathy for the plight of Toronto under Ford, he really does -- but at the end of the day (and here is where both themes converge), elections matter, and you get what you pay for. And when only 53.2 per cent of Torontonians bother to vote, when we behave as though elections do not matter, we suffer.
On the Fords, Olive writes,
"We elected these morons. Which means we deserve them. Really. A cursory look at Rob Ford's track record on council, such as it was... would show he occupied himself mostly with accusing his fellow councillors of pretty much every venial crime under the sun."
Yet not everyone sees the shifting political climate and electoral results as a negative. Gwen Ifill, writing in The Atlantic on the impact of the Tea Party south of the border, welcomed the turmoil that the Tea Party surge has brought, but not for the reasons you might expect. On the impact of independents giving their vote to Tea Party candidates, "none of this troubles me," Ifill writes. "I like it when we're reminded that our actions at the polls have meaning, and that we have to pay close attention before we cast our votes -- or fail to cast our votes."
Which is Olive's point exactly: Toronto cannot be surprised at the narrow-minded and callous actions of the Ford brothers, because we knew who we were dealing with before Rob even announced his candidacy. We had the voting record!
"He was a stuntman disguised as an officeholder," Olive writes. "His hijinks stopping just short of the McCarthyesque gimmick of pulling a list of names of malefactors from his pocket but not letting us see it. A contributor he was not. An "energy drainer," as consultants say of noisome brats passing themselves off as adults who need to be excised from the office or classroom, the Fords were and continue to be."
Which brings me to the second theme of the discussion: Olive is right. We voted for them, which means we, collectively, can be as narrow-minded and ignorant as the Ford's. We deserve them, because they are a reflection of what we were looking for in a political leader in late 2010.
And after all, you get what you pay for.