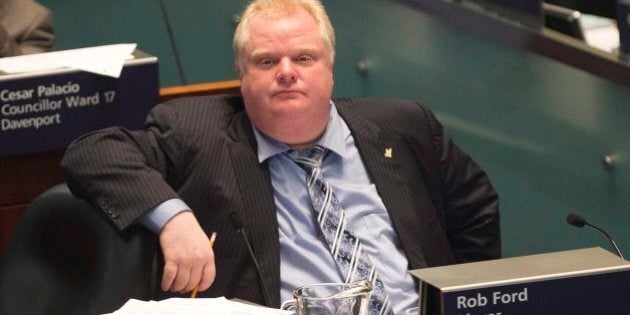 The alleged offer was for $5,000 and a car and came in March, months before the existence of the tape was reported by Gawker and the Toronto Star.
The allegation is contained in an unredacted version of an Information to Obtain (ITO) in the drug-trafficking investigation of Ford's sometimes driver and friend Alexander Lisi. The documents were prepared in order to obtain search warrants related to the Lisi case. None of the allegations have been proven in court.
On Wednesday, summaries of police wiretaps from the investigation were released. Those summaries contain details of a conversation between Mohamed Siad, who police believe was involved in trying to broker a deal to sell the tape, and Siyadin Abdi, who placed a call to Ford's office on March 18, 2013.
Abdi allegedly explains that he was offered $5,000 and a car, to which Siad allegedly says that he will "meet with him and ask for 150."
The documents also contain the suggestion that Ford may have done heroin.
In a wiretap, Abdullahi Harun, a man believed by police to be a drug dealer, says he has "so much pictures" of Ford taking drugs. He mentions dugga, slang for marijuana, and hezza, common slang for heroin.
Story continues below slideshow
Police Told Video Was Motive For Murder, But Theory Dismissed
Smith was shot outside a Toronto club in late March.
Plot To Retrieve Ford's Own Phone
The ITO documents detail the story of attempts by Lisi to retrieve Ford's cell phone.
Police believe Ford's phone was stolen from 15 Windsor. Around the time of the theft, alleged gang member Liban Siyad was called to the home to deliver drugs to the mayor, according to the documents. Siyad later said the mayor had been "smoking his rocks."
Lisi then allegedly calls Siad and accuses Siyad and a friend of stealing Ford's phone. Lisi threatens that the mayor will put attention on the gangs connected to the case if the phone is not returned.
The wiretap summaries detail how Siyad was not worried about the threat because he had a picture of Ford "on a pipe." Regardless, the documents allege that Lisi eventually got hold of the phone in exchange for a large amount of marijuana
Man Shopping Video Was Kidnapped?
According to police wiretaps, alleged crack video broker Siad was kidnapped in connection to the tape in May.
Abdi explains on a wiretap that he and an unnamed friend held Siad for an hour to talk to him about the video. Siad cried and said he had destroyed the footage.
Police have not confirmed that the kidnapping occurred.
Councillors And Police Chief React
Toronto city councillors were quick to react to the latest documents. Councillors Adam Vaughan and Joe Mihevc, both left-of-centre critics of the mayor, called for police to address the allegations.
"I didn't expect to be shocked but I am and I am so profoundly saddened," Vaughan told CP24.
Police Chief Bill Blair would not comment on the newly released documents. "I don't believe it is appropriate for police to comment on the evidence," Blair said to media Wednesday afternoon.
"We conducted an investigation that needed to be done and we gathered evidence and put it before the courts," he added.
Late Wednesday, Ford walked past a throng of reporters shouting questions about the allegations on his way out of City Hall. The mayor smiled and appeared to be on the verge of laughter. He did not answer any questions.
Ford ended months of media speculation when he admitted last month that he smoked crack "in a drunken stupor" but that he would not resign. Toronto council subsequently voted to give many of Ford's mayoral powers to deputy mayor Norm Kelly.