UPDATE: Humber River Hospital confirmed Thursday that Rob Ford has been transferred to Toronto's Mount Sinai Hospital "for follow-up investigation and subsequent treatment."
Toronto Mayor Rob Ford has been hospitalized after a CT scan revealed an abdominal tumour on Wednesday.
Humber River Hospital president Dr. Rueben Devlin confirmed in a statement that Ford was admitted after he arrived at the hospital's emergency department complaining of "unbearable" abdominal pains.
"It saddens me that I have to be here today," the mayor's brother Doug Ford told reporters at a news conference Wednesday evening.
Doug said he met his brother for breakfast and the mayor mentioned his stomach was bothering him. Ford later went to see a doctor and was then sent to the hospital for further tests.
The hospital's statement said Ford started experiencing abdominal pain three months ago and the pain had become progressively worse. It intensified in the past 24 hours, prompting the mayor to get medical attention.
Devlin told reporters at the press conference that the tumour is in Ford's abdomen. When asked about the credibility of the working diagnosis, Devlin said the scan was "very definitive for the tumour."
Additional tests are underway and a biopsy is planned to determine the tumour's exact type.
"We hope we'll get to do a lot of that investigation this week," said Devlin.
Ford's campaign rivals, John Tory and Olivia Chow, reacted warmly to the mayor's diagnosis with messages of support.
"My thoughts are with Mayor Ford, Renata, their children and the entire Ford family this evening," Tory said in a statement. "While you may see us debating, we are also human beings … Get well soon."
Chow described the revelation as "sad" and took to Twitter to offer a few words.
This isn't the first time Ford has been diagnosed with a tumour.
In 2009, Ford was admitted to hospital after waking up with a pain in his stomach he "wouldn't wish on his worst enemy." An infected tumour was discovered on his appendix, which doctors removed as well as a part of his colon after it had spread.
Ford is currently running for re-election in a bid to serve a second term as mayor. No additional details have been made regarding the future of his campaign.
"He's in good spirits," Doug added, thanking people for their well wishes.
He did not comment on whether his brother's condition would affect his mayoral campaign, and asked the media for privacy over the next few days.
Toronto voters head to the polls on Oct. 27.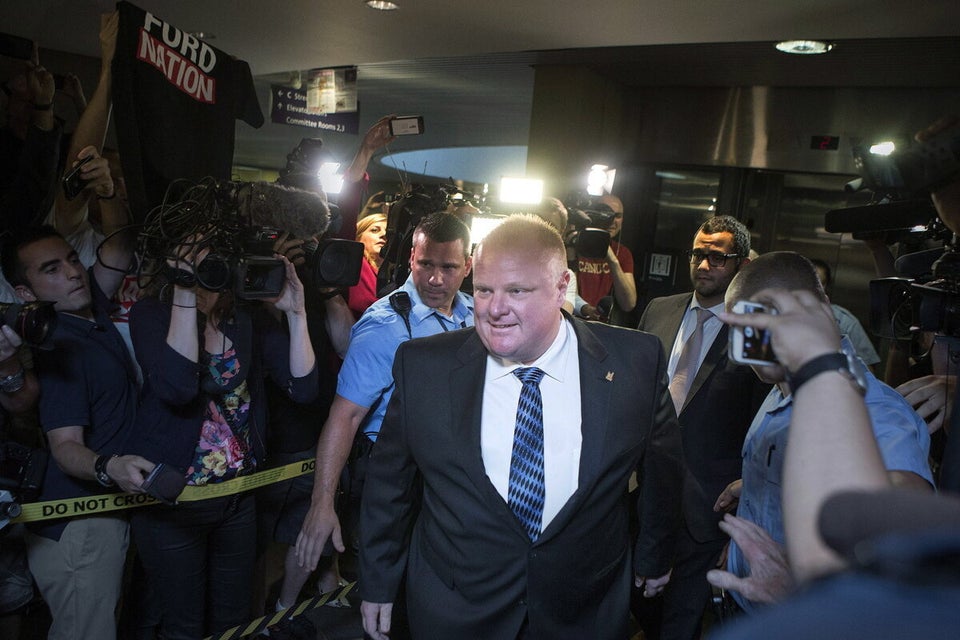 Rob Ford Returns From Rehab