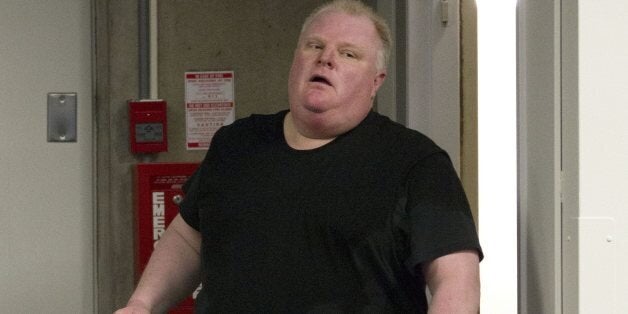 Rob Ford thinks everything will work out fine — if he can just lose enough weight.
The Toronto mayor has been working out pretty hard since admitting in November to smoking crack cocaine in a "drunken stupor" and the results are beginning to show. The famously rotund politician — who has described himself in the past as "three hundred pounds of fun" — is noticeably thinner these days.
Strobel's column revealed Ford has lost about 40 pounds in two months and now tips the scales at about 295 pounds. Gym rats may be impressed to learn the mayor was able to leg-press 810 pounds, which led one staffer to call him a "beast."
But perhaps the most revealing quote was when the mayor addressed what's at stake in his new fitness regime.
"The only way people are going to respect me, to bring back my image, is if I lose weight," he said. "The rest falls into place."
This comment echoes earlier sentiments from members of Ford's family, who denied the mayor needed treatment for drug and alcohol abuse after the crack scandal blew up this past fall.
In an interview with CP24, the mayor's mother, Diane, conceded her son had "problems" — but not with booze or drugs.
"He has a huge weight problem and he knows that and I think that is the first thing he has to attack because that will change your whole demeanour," she told Stephen LeDrew. "Everything else will fall into place because you aren't all the things you're being accused of."
Rob's sister, Kathy, also denied he needed professional help.
"Robbie is not a drug addict," she said. "I know because I'm a former addict."
And after the Toronto Star published a video of an inebriated Ford ranting angrily, his brother Doug Ford recommended he take a "little vacation" to sort out his issues or perhaps get some counseling.
But Doug Ford also suggested the most pressing issue for his brother was dropping pounds.
"Once he's down they want to try and kill him because they know if he gets back on his feet and he starts moving forward, and he loses weight and he gets his life together, they are going to have one heck of a battle on their hands," Doug Ford told a Toronto radio show.
But alas, the mayor did not take any time off. He did not go to rehab. He was stripped of his most meaningful powers by city council.
Could a leaner, meaner Ford stun all those who said his political career was over?
Ford's commitment to improving his health is a departure from his disastrous "Cut The Waist" challenge, where he finished 50 pounds short of his weight-loss goal and twisted his ankle after falling off a scale.
And for Strobel, one workout session was enough to convince him Ford is a changed man.
"We could do worse than, say, 250 pounds of clean and sober in the mayor's chair," the writer concludes.
Torontonians head to the polls on Oct. 27.