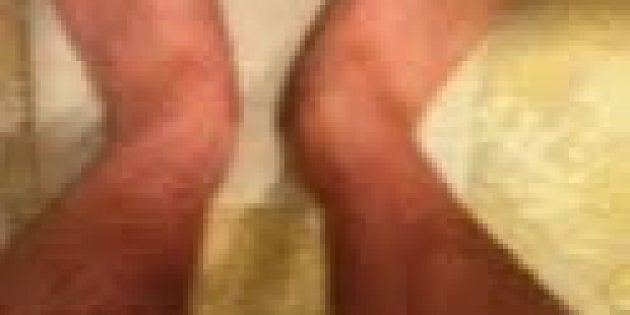 Dear readers, fellow dieters, distinguished guests and not-so-distinguished guests, I present to you today a story of great accomplishment and achievement, a triumph over adversity, a very human story about hard work, sacrifice, toil, and redemption. A kind of story that will invoke great moments of history like when George Washington crossed the Mississippi. Will he make it? Or will he perish? Those are the kinds of questions that prove a man's mettle, that keep him up at night while his family rests and the dog parades from room to room -- O' why, Scooby, why do you do that? Don't you like your pillow bed? Is it not comfy and labradorically luxurious enough? -- Yes, these are the great themes that I present to you.
I can't keep this charade up much longer. The truth is, I had a great blog to write today. It was going to be about how I lost a TON of weight. Seriously, I lost two thousand pounds.
OK, no I didn't. But to me, for a shining moment, it felt like that. Let me explain.
So as you know I've been trying to lose weight. Every week I take a picture on my scale to show you my current weight. I started at 239 pounds, dropped five pounds to 234, held it there for a while, went off the wagon one night, gained a little but then quickly lost it, held steady at 234 for a few weeks, ran up and down the Exorcist Steps in Washington D.C., ran a ton of 10Ks, played racquetball every Sunday, ate turkey and egg whites, and, after all that, I STILL weighed 234 pounds.
Last week I missed writing the blog due to a deadline but I can tell you with confidence that I still weighed 234 pounds last Monday. You didn't miss anything.
Then, the next day, something happened. I went on the scale and lookie what I saw: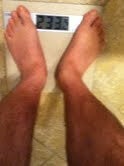 233.2! I had broken the 234 spell. Yes!
Then, the next day I weighed myself, and was down to 232. La dee dah. Keep going.
So then the next day, I weighed 230!
Two days later I weighed myself again and it read 229.4! I had broken through to the 220s! FINALLY!
Ok, so this is the part where I ask if any of you are particularly religious. I needn't know what faith you follow or whether you believe in God or if you do, whether God is a man or a woman -- that's if you believe God takes on a human form. Or maybe you believe God is something altogether unfathomable by humans that no one can even imagine -- or maybe for you the Spaghetti Monster rocks your boat -- but let's not get mired in the details.
So here's what happened next. This morning I got on the scale expecting to show my blog peeps a seriously fantastico number. I had the iTouch ready at the helm to capture the moment and with "oh boy oh boy!" excitement I stepped on the scale and closed my eyes. The entire blog that I wanted to write suddenly flashed before my eyes, the one about the triumph and the mettle and the hard work.
I imagined not only writing it but presenting it to an auditorium full of people, everybody dressed in their Sunday best. This would be my shining moment. To experience that I-can't-believe-I-finally-did-it moment. Ladies and Gentlemen, members of the press, our esteemed guests, I present to you ... (drumroll) ....
And then I opened my eyes and looked down. And I saw -- OH C'MON!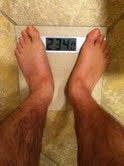 And notice: not just 234 and some odd pounds but 234 POINT ZERO pounds. Not even one tenth of a pound up or down!
So I need you to ask your Jesus, your Elohim, your Vishnu, your Ragu (does the Spaghetti Monster have a name?), your Penn Jillette ... you tell them to stop messing with me, OK? You, Nature Deity, that's right, you with the tree nymph -- cut it out, ok? I get it. It's all very funny. I'm having a nervous breakdown here. I need a drink. Can somebody bring me a Fresca?