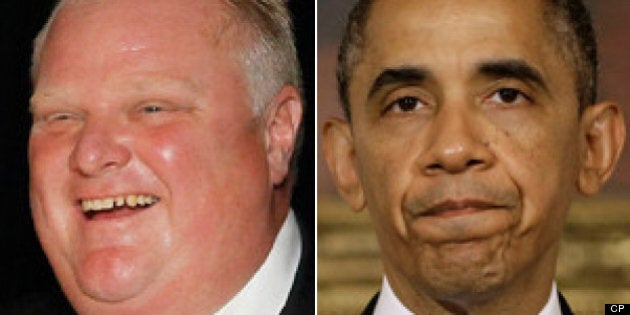 It's no secret that Rob Ford's biggest defender is his brother Doug. And in a new interview with CNN, Doug shows just how highly he regards his brother.
"Everyone keeps saying Rob's a conservative," the Toronto city councillor tells CNN reporter Bill Weir. "He's a huge, massive social liberal. He loves Obama. The headlines of the papers when he won? 'The White Obama.' "
If you missed that headline, you're not alone. The Toronto Star writes there's no record of any newspaper calling Rob Ford "The White Obama" -- but he was called "the Barack Obama of Toronto" in a 2010 National Post column comparing Ford's populism to Obama. Tasha Kheiriddin wrote:
Mr. Obama won the U.S. presidency for largely two reasons: his persona (a post-modern, post-racial bridge-builder), and the fact that eight years of the Bush White House made it nigh impossible for a Republican to get elected in 2008. Similarly, Torontonians are gravitating to Mr. Ford based on his story (taxfighter, waste-cutter, bullhorn in a socialist wilderness), and an anger at seven years of a city council tilted so far to the left, it's a wonder that Toronto City Hall hasn't toppled over.
The "White Obama" quote is just one part of CNN's lively, wide-ranging and sometimes just weird interview. Read the full story here.