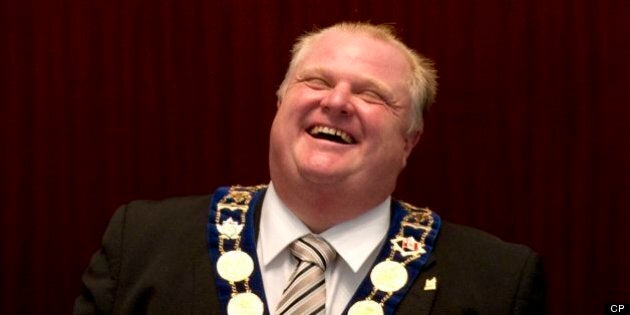 Rob Ford's offer to "explain how politics works" to women interested in running for public office isn't sitting well with some people.
That's when Ford, who is famous for offering his home phone number to those wishing to take up issues directly, made an unusual proposal to women.
"Well, call me. Call me at home -- 233-6934, 416-233-6934 – and [I'll or we'll] go for a coffee, and explain how politics works. You have to be over the age of 18, a Canadian citizen, and live in Toronto. And the rest is up to you, how hard you want to work."
One journalist took the mayor up on his offer on Monday morning, calling his home and office in hopes of talking politics. Unfortunately, she had to leave a message.
While Ford's offer was seemingly made with the best intentions, he was almost immediately mocked on Twitter for coming off as condescending.
Some wondered why the controversial leader of Canada's largest city — who was accused of groping an ex-rival at a charity function and had to fight to keep his job after a conflict of interest scandal — felt qualified to dispense advice.
Others rushed to the mayor's defence saying that his desire to see more women enter public life was a good thing.
See the gallery below for some of the best tweets and join the discussion in the comments. Was Ford really over the line?
Popular in the Community