OTTAWA — Canada could be active in Iraq for the next decade as the war against ISIL continues and the region needs rebuilding, Canada's foreign affairs minister suggested Thursday.
"We're in this for the longer term to make sure that we do what we can to help," Rob Nicholson told reporters during a phone call from Amman, Jordan, after completing a secret trip to the region.
"It's similar to what we did in Afghanistan for instance," he elaborated when asked by The Huffington Post Canada. "We were in Afghanistan, but we indicated that we would continue our assistance, and we have in Afghanistan."
"It's not just the military, it has to be a bigger picture in terms of what the solutions are," Nicholson said, referring to continued humanitarian assistance. Canada has so far pledged $100 million to Iraq in humanitarian stabilization and security programming, he said.
"And this is going to continue. We've made that very clear."
While he highlighted Canadian efforts to stop the influx of foreign fighters to the region and to stymie financing for ISIL, Nicholson also praised the military's contributions in the region, saying Canada's armed forces are making "a tangible difference in Iraq."
"They have reversed some of the territorial gains, destroyed ISIL equipment and disrupted ISIL's leadership command, control and logistics," he said.
Canada has 69 special forces soldiers advising and assisting Kurdish Peshmerga fighters on the ground. It also has six CF-18 fighter jets, one air-to-air refuelling aircraft and two Aurora surveillance aircraft working with an international coalition to stem the progress of the Islamic State of Iraq and the Levant — commonly referred to as ISIL or ISIS.
Nicholson met with his counterparts in Dubai, Baghdad and the Kurdish region of northern Iraq. He said the talks were dominated by discussions about the continued threat of ISIL.
He also visited some of the commandos working with the Kurds, as well as a displaced person camp.
But the primary reason for his fact-finding trip, the minister said, was to help the Conservative government decide what shape the mission against ISIL might take in future.
"Our mandate is until April 7, but we've indicated that Canada is not a country that stands on the sidelines. and we're looking at ways that we have contributed and what is available for the future.
"I have indicated that we are in this for the longer term to make sure that we do what we can to help. With respect for our military engagement, that will be a decision of the government in the next few weeks and, again, the feedback that I got was that Canada's support has been very helpful and very much appreciated."
In recent weeks, Conservative ministers have suggested Canada's role in the fight against ISIL could deepen, though they have ruled out sending a large Canadian Forces contingent to take part in ground combat in the region.
Thursday, a spokesman for Canada's contribution to the mission against ISIL told reporters it would not be difficult from a technical standpoint to extend the bombing mission to Syria, although it would require more effort for Canada to participate in a military mission in Libya.
Asked if Canada had the equipment and personnel to continue an "ongoing mission" in Iraq, Navy Captain Paul Forget didn't hesitate to say the Canadian Forces were ready for that.
"Quite honestly yes, the short answer is yes. From both standpoints, from a material [and] from an equipment, training and personnel standpoint — good to go, if you will," Forget said.
– With files from the Canadian Press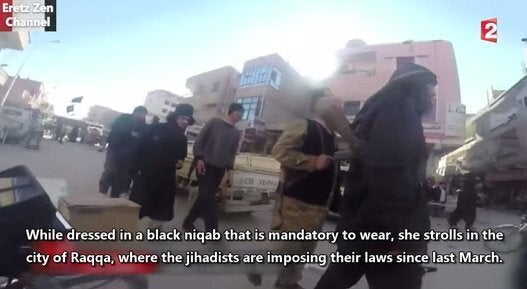 Syrian Woman Wears Hidden Camera to Reveal Life Under ISIS Rule
Popular in the Community