Robert De Niro has taken it upon himself to build a wall of blunt reasons to keep Donald Trump out of the oval office.
But De Niro's full interview, aired by Fox News on "Kelly File" Friday, makes it clear that a good chunk of his honest comments didn't make the final cut.
"He's so blatantly stupid," said De Niro of the Republican presidential candidate in the newly released video.
Watch his full tirade against Trump below:
"He's a punk, he's a dog, he's a pig, he's a con, a bullshit artist, a mutt who doesn't do his homework, doesn't care," he listed.
"It makes me so angry that this country has gotten to this point that this fool, this bozo has wound up where he has," De Niro continued.
"He talks about how he wants to punch people in the face,well, I'd like to punch him in the face," the actor added, referencing a speech where Trump quipped that he wanted to hit a heckler in the face.
By the end of the video, De Niro circles back to the original question he was asked: What do you care about?
"What I care about is the direction of this country," he said. "And what I'm very very worried about is that it might go in the wrong direction with someone like Donald Trump."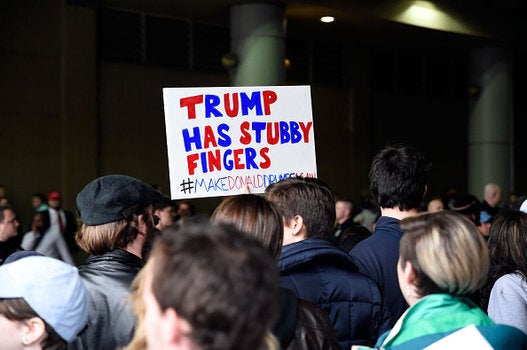 11 Donald Trump Protest Signs