UPDATE - March 15, 2017: Robert E. Kelly and his wife released a new statement about the viral BBC interview on Kelly's blog on Wednesday.

"We are just a regular family, and raising two young children can be a lot of work," they said. "Because of that, it seems that the video has resonated with parents around the world, and we are flattered at the many gentle sentiments about our children. Thank you. We love them very much, and we are happy that our family blooper brought some laughter to so many."

Read the full statement here.
A seemingly normal Skype interview on South Korean politics turned into an enormously viral story last week, thanks to a daughter who was in a "hippity-hoppity mood," and a dad who forgot to lock the door of his home office.
The clip left viewers hanging with many questions. Robert Kelly and his family, who have been bombarded with interview requests, finally provided the Internet with some closure.
"Yes, I was wearing pants," Kelly told BBC News on Tuesday, answering what was likely the most burning question.
The professor also commented on controversy surrounding his wife, Kim Jung-A. Many people watching the video made the assumption she was a nanny, something Kelly found upsetting.
"Yeah, we were pretty uncomfortable with it," he said.
Jung-A added that she hopes people will stop arguing over the many controversies the video caused, and just enjoy the comic relief.
The couple's children, four-year-old daughter Marion and eight-month-old James, joined them for an interview with The Wall Street Journal on Tuesday.
The two delighted viewers once again by making quite the ruckus. James pushed around his dad's face and pulled his ears as he spoke. Marion replied to a question about school by belting out a scream.
Kelly and Jung-A explained exactly what happened before Marion triumphantly barged into the home office that evening.
"She was in a hippity-hoppity mood."
For starters, Kelly forgot to lock the door. And Jung-A, who was watching the children, lost track of them for a split-second.
"She was in a hippity-hoppity mood," Kelly said of his daughter.
And the rest, well, is history.
Kelly attempted to finish the WSJ interview without the distraction of his children, but once again, was unsuccessful. Marion knocked on the door and yelled to be allowed inside.
"This is my life, man." he said.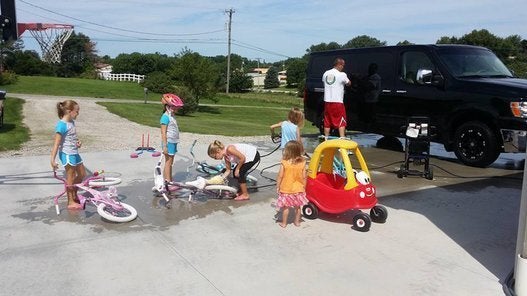 What Parenting As A Dad Looks Like In One Photo