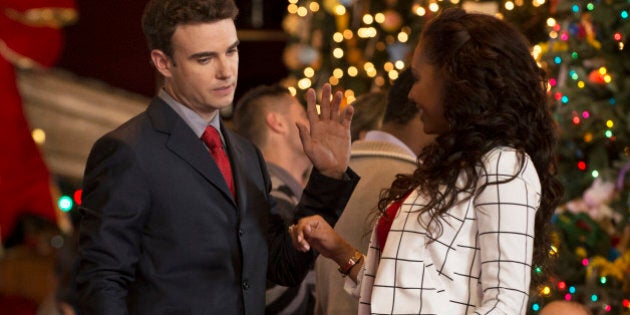 It's beginning to feel a lot like Christmas, except some greedy individuals are more humbug than festive cheer.
That's certainly the case in the TV movie "Twelve Trees of Christmas," where real estate developer Tony Shaughnessy (Robin Dunne) plans to demolish the beloved community library to make room for more condominiums. It's up to librarian Cheri (Lindy Booth) to change his mind, convince him to embrace the holiday spirit and perhaps take a chance on love. Spice Girl Mel B also stars in this holiday movie.
"Twelve Trees of Christmas" airs on December 23. Earlier this year, Dunne spoke to HuffPost Canada TV about filming "Twelve Trees of Christmas" in the sweltering heat, and its joyous message.
HuffPost Canada TV: You recently completed filming the horror flick "Torment." How was it shifting gears from frightening to family fare?
Robin Dunne: Man, it was the biggest gear shift I ever made. "Torment" was this crazy horror movie, shooting nights, every night, for months. Every shooting day, I was covered in blood and being tortured and running and screaming and crying. I think it's going to be very scary. It's like a "Texas Chainsaw Massacre" meets "Mama." It's definitely a much different experience than the winter wonderland of "Twelve Trees of Christmas." It was a welcome change for me because I was really worn down shooting "Torment." It was nice to be in this very Christmas environment, even though we're right in the middle of summer. There were some difficulties, mainly shooting outside wearing coats and hats when it's 30 degrees.
It must have been brutal portraying this winter wonderland during a heatwave in June.
Exactly. You're trying to stop fainting and being overheated. We're so used to seeing this holiday every year that despite the fact it's 30 degrees and the middle of June, once you get into that environment, you see the Christmas trees and ornaments, the presents wrapped around the tree, your sense memory immediately goes back to it and you find yourself getting into the Christmas spirit.
Besides swapping genres, what else piqued your interest about this project?
I worked with Michael DeCarlo years ago and we were trying to find something else to work on. When this came along, I was looking forward to the opportunity of working with him again. Rob Vaughn, the producer of the film, is a very good friend of mine. We've never worked together. Lindy Booth is someone who I've worked with many times before and is a good friend of mine. Although I wasn't necessarily a Spice Girls fan, I just don't think I'm the demographic, it was exciting for me to work with someone like Mel B. Most of my character stuff is with her, so we got to hang out quite a bit. She's amazing. There were a number of factors that made me want to do this film. Another is my Mom loves these movies. My Mom will never watch Torment -- it's too scary for her -- so it's nice to do a movie she will love.
Tony sounds a little bit like a Grinch. How would you describe him?
That's pretty accurate. He wouldn't describe himself as a Grinch. He would describe himself as a practical business person who is not swayed by frivolous things like holiday spirit, but holiday spirit certainly carries the character played by Lindy. She's able to sway him into understanding the importance of having Christmas spirit, even if it doesn't necessarily make business sense.
What else does the "Twelve Trees of Christmas" title refer to?
There's a library that my character is going to tear down and [in order to] build a condominium. Lindy's character is a librarian and she's trying to convince me that this library is the cornerstone of the community. In an effort to sway me, she creates this contest, "Twelve Trees of Christmas." Twelve different trees are going to be decorated. There's going to be a winner and there's going to be a big festival. She recruits my grandmother, the executor of the family and has control of the library. She invites her to be the judge of the contest in the hopes my grandmother is going to be swayed and decide not to allow the library to be torn down. Of course, I decide to enter the contest and ruin everything. It doesn't work out so well for me.
Where does Mel B fit into this?
Mel B is my character's designer. She designed my flashy condo. When I decide to enter the contest, instead of decorating the tree myself, I kinda cheat and have her design my tree for me. Unbeknownst to me, she just steals Lindy's character's idea. Mel B ends up being the real bad guy.
Did the decorated trees turn out like the ones at the New York Rockefeller Center?
Yeah, it was a pretty amazing day to be on set when we were filming that sequence. The set decorator and art department did a wonderful job of decorating these amazing trees all in different styles. Some of them were decorated entirely with cakes and candy and cookies. Some were decorated with toys. There was another one that was an electronic tree that was decorated with iPads and different kinds of cell phones. That was one the days when you walk on the set and go, "Wow. I'm totally in the Christmas spirit."
Going back to the Grinch analogy, surely Tony's heart grows two sizes that day. What are you hoping viewers take away from this TV movie?
I hope people get a good feeling for the Christmas spirit. There's also a really nice message in the film about literacy and community and the importance of libraries. Yes, we're going into a very technological age where some people may argue we don't need things like libraries and everyone is reading books on iPods. Still, at the end of the day, we do need to promote literacy and encourage reading with children. These places, like libraries in the community, really support that environment for kids. That's a nice message.
"Twelve Trees Of Christmas" airs on CTV on Monday, Dec. 23 at 8 p.m. EST/PST.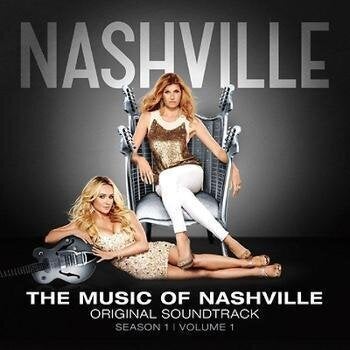 TV Lovers Holiday Gift Guide
Popular in the Community