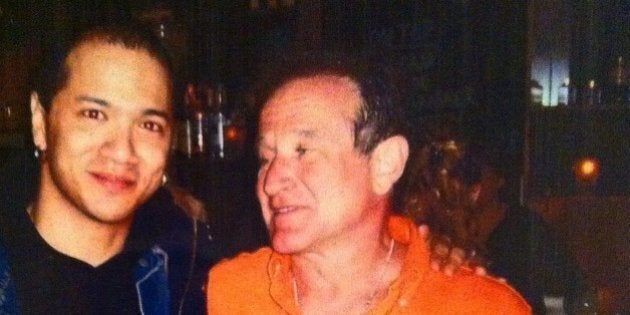 Growing up, rock stars were wild and dangerous, irreverent and outrageous. It's what attracted legions of us to their fold. What charmed me was their courage to perform and ability to master their own madness. It wasn't something I saw around me in my every day life and it immediately captivated me. Sometimes, their songs were good too.
Comedy was also a place where I froze in wonder and awe. A witty joke, turn-of-phrase or comedic performance, to me, was on par with a great guitar riff or catchy song. When I found out comedians put out records just like rock bands did, I set out to buy as many of them as I could afford. Luckily, this was the time of cassette dubbing and I managed to cull from all my friends' cassette collections acquiring Steve Martin's "Wild & Crazy Guy," Cheech & Chong's "Let's Make A New Dope Deal" and Robin Williams' "Throbbing Python Of Love." I know all these records off-by-heart, word-for-word, like the national anthem and Happy Birthday.
"Throbbing Python Of Love" couldn't have come to me at a better time in my life. I was starting to bubble with hyperactive energy and was beginning to have difficulty wielding it. Trying to suppress the non-stop ticker tape of thoughts was quite the task but listening to Williams go a million times faster on wax...relaxed me. The only way to keep up with him was to burrow down, memorize the album and lip-sync it in my room like some whacked-out karaoke party of one (too much info?).
"What the hell's he doing now? Ha Ha Ha Ha Ha...Catch Up!"
The album is littered with genuine audience outbursts, interactions and heckles which only encourages Williams to respond and top himself. When someone yells out "Improv," at the end of side one, Williams snaps, "What do you think the fucking last thirty minutes has been?" Unbridled genius.
So imagine my surprise, 10 or 12 years ago, walking around downtown Toronto watching a slow figure moving towards me, only to realize it was Williams himself. Needless to say, I was stunned. Little did he know his voice had filled my head for hours that had compounded into days. We passed each other and stupefied, I could only muster a "Hello, Mr. Williams" to which he politely nodded. Obviously, he wanted to be left alone and that was enough for me.
When I played that moment over and over in my head, I wished it could've played out differently. I realized what I should've said but thought I'd never get a second chance.
One night, after we played a set at the Horseshoe Tavern in Toronto, we got word from our friend, John Catucci (host of "You Gotta Eat Here!"), that Robin Williams was at the Oasis Restaurant on College Street about to do an impromptu comedy set in the back room. Even though we were only a few blocks away, we all took cabs and jetted over there as fast as we could. We walked in and there he was riffing from the top of his head. Everyone was spellbound. I was in glorious shock. He was hilarious.
After the set, he was semi-mobbed by the scant crowd privy to his "secret" appearance. Of course we all wanted pictures and when I got my turn, I also got my second chance and told him -- "the first time I saw you I wanted to yell out 'Joke 'em if they can't take a fuck'." That was the last line off of "Throbbing Python Of Love" and while he turned to me and said "what a lovely tribute," the photographer snapped this photo.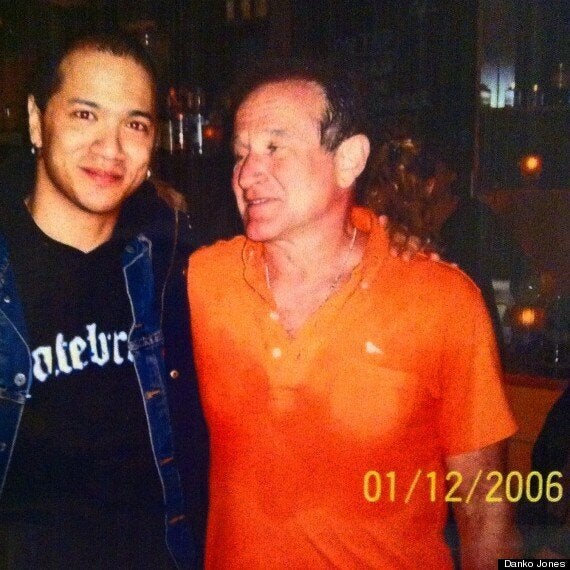 The news of Robin Williams passing isn't even 24 hours old. I might be a little emotional right now and cringe at what I've written here later on but Robin Williams came to represent a wildness that I felt a kinship with and carry with me to this day. He was one of a kind.
Robin Williams...What A Concept. R.I.P.