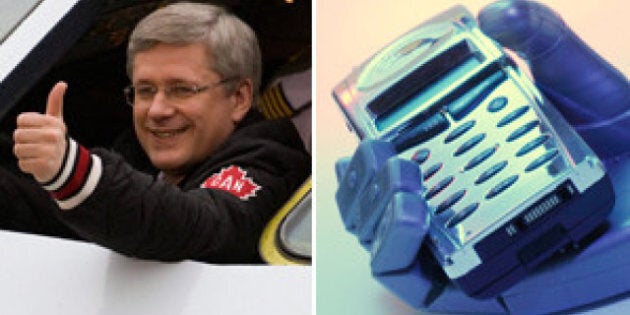 Though almost four out of every five Canadians are aware of the "robocall" allegations and a plurality blame the Conservatives, support for Stephen Harper's party remains unchanged.
Conservative support stands at 37 per cent, up one point since Forum was last in the field on Feb. 6. They are trailed by the New Democrats, unchanged at 28 per cent, and the Liberals, who have dropped one point to 25 per cent.
This lack of volatility is surprising considering that 78 per cent of Canadians are aware of the allegations that so-called robocalls were used to mislead voters into going to incorrect or non-existent polling stations during the May 2011 federal election.
Automated telephone calls were relatively common in the last election. Fully 35 per cent of respondents said they received an automated call during the campaign, including 45 per cent of Ontarians.
Most of them, however, had nothing to do with polling stations. Parties legitimately use automated calls to get in contact with supporters, and polling firms (including Forum) use them as well. But nine per cent said that the calls were about polling stations, despite the fact that Elections Canada does not make any calls and told parties not to call their supporters about any polling location changes.
The survey reports that most of these robocalls correctly directed them to the right polling stations. But 22 per cent of those who got calls said they received incorrect information.
Caution must be taken when examining these numbers as they only represent two per cent of all respondents, or roughly 34 out of the 1,675 Canadians sampled for the poll. Two per cent of the 15 million Canadians who voted in May 2011 works out to 300,000 voters.
Liberal and NDP supporters were more likely to say they were given incorrect information, but the proportion is not significantly higher than the number of Conservative supporters who also say they received incorrect information.
So far, no proof has emerged directly linking the Conservative Party to these allegations. But the court of public opinion is quicker to jump to conclusions and 39 per cent of Canadians believe the Conservatives are responsible for the misleading robocalls. Another 17 per cent blame either the Liberals or the New Democrats.
This is coloured along partisan lines, however. While roughly 60 per cent of Liberal and NDP supporters believe the Conservatives are responsible, only 11 per cent of Tory supporters blame their own party. Instead, 32 per cent of them blame either the Liberals or NDP.
And when it comes to whether by-elections should be held in ridings where these allegations might be proven, 75 per cent of NDP and Liberal supporters think the votes needs to be re-held, compared to only 22 per cent of Tory supporters.
Without a smoking gun, it seems Conservative voters are ready to believe that this is just a smear campaign against the governing party.
The level of partisanship in the House of Commons and the cacophony of confusing and contradictory information (and misinformation) appears to be giving the Conservatives immunity. But if a smoking gun is finally discovered, there is no telling what the fallout might be.
Éric Grenier taps The Pulse of federal and regional politics for Huffington Post Canada readers on most Tuesdays and Fridays. Grenier is the author of ThreeHundredEight.com, covering Canadian politics, polls, and electoral projections.
Popular in the Community